'Unacceptable in democracy!' IFJ president slams US police for arresting journalists in DC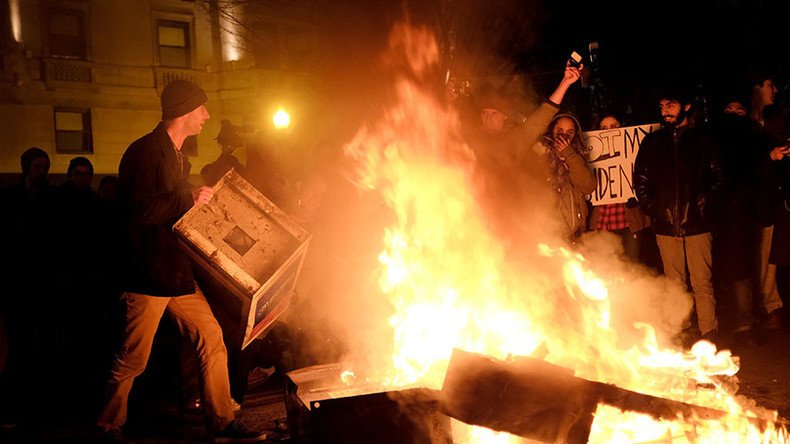 It is the duty of police to protect journalists during public disorders, IFJ president Philippe Leruth told RT, speaking of the "unacceptable" arrest of six journalists including an RT reporter covering unrest in Washington DC on Donald Trump's inauguration day.
"Obviously, in this case they [police officers] didn't care and they repressed the press and, once again, it's unacceptable in democracy," International Federation of Journalists president Philippe Leruth said in an interview with RT.

"We might wonder if police didn't want journalists to report about abuses, because when press is present and police is repressing demonstrators, it's very problematic for police," Leruth added.
RT America's Alexander Rubinstein was covering the protests that broke out in Washington on January 20 when he was arrested and charged with inciting a riot, the gravest crime under the District of Columbia's public disturbances law. Rubinstein and five other journalists were released a day after. However, they are still under investigation and face a maximum of 10 years in prison and up to $25,000 in fines. Hearings are expected to take place in February and March, according to court filings.

"This is common practice in countries which deny press freedom. This procedure is called criminalization of journalistic work. You report about riots, you report about terrorist organizations and you are accused of taking part in riots, to be a member of a terrorist organization," Leruth said.

"I am very surprised that the United States, where press freedom is supposed to be a key value of democracy, used the same practice," he said.

Leruth also said that now "it's very important that not only the International Federation of Journalists, but also its American member unions, joined their voices to denounce this fact."
"It's unacceptable and if we don't stop it right now, we have the risk that it will repeat," the IFJ president said.

The "only way out" in the current situation, in Laruth's opinion, is to release the journalists and to drop the charges which are "absolutely ridiculous" and "show shortcomings in Trump's administration regarding press freedom," he said.

The arrest of six reporters has sparked an outcry among several major international organization standing for press freedom, including the Organization for Security and Co-operation in Europe (OSCE), Reporters Without Borders (RSF), the Committee to Protect Journalists (CPJ) and the Society of Professional Journalists (SPJ). The groups have called on US authorities to clear the arrested journalists of the charges.
You can share this story on social media: