Canadians turned away at US border ahead of inauguration & march for women's rights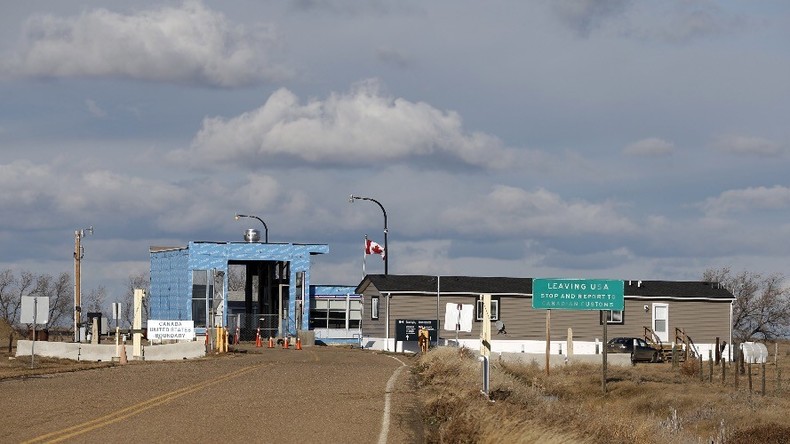 Several incidents took place involving Canadians trying to enter the US to attend Donald Trump's inauguration, as well as the following day's march for women's rights, and being turned away at the border for reasons not apparent to them.
The Friday inauguration of the 45th US president came one day ahead of the Women's March on Washington.
As he made his way down south to the United States on Thursday, dual citizen Sasha Dyck, 34, was in the company of people he had met online – seven of them, including five Canadians and two French.
"We went down with two cars and we were turned away at the border," he told the CBC.
"I'm also part American and I wanted to be part of sending a signal and a strong message that Americans themselves are not pleased about the development."
Though there was no legal reason to have his US passport with him, Dyck added that he had failed to bring it.
Dyck tells the CBC he wanted to go down to Washington "to protest Trump and the inauguration," but told the border guard he was traveling to take part in Saturday's women's march. "We did not talk politics at all."
Dyck then said the group was held for several hours at the Quebec-New York border, where they were fingerprinted and made to unlock their phones, before finally being turned away with a warning that they would be detained were they to make a repeat attempt at crossing the border.
"They probably figured Canadians coming down are not going to be sympathetic. They're not there to cheer at the inauguration, especially since we said we were going to the women's march. So they just turned us back."
Dyck, a nurse, also wondered why his treatment this time at the border was different from the time he had last crossed over – to cheer at Obama's inauguration in 2009.
"At that point, the border guard said, 'Come on in!' It was open arms. They were so happy to celebrate with the world. It's going to be a very different feeling this time," Dyck says, adding that he thinks the US "has historically been a very open country – open to other ideas or to other people."
CBC spoke to Montreal-based immigration lawyer Chantal Iannicello, who explained that ordinarily, border guards are not required to give a reason for turning someone away at the border. She added that it is possible that the group was turned away because they had revealed they were going to the march, yet chose to omit the fact that they were really going there to disrupt the inauguration.
Iannicello is, however, surprised at the border guard's warning that Dyck would be arrested if he tried to cross over again.
Another incident involved Joseph Decunha, 20, a physics student at McGill University, Montreal. He was turned away at the same crossing as Dyck, in Lacolle, Quebec. He told Reuters he was asked specifically whether he and his friend were going to the anti-Trump protest. Decunha says he and his friend "were forthcoming and explained we were quite vehemently anti-(Trump)."
Yet another border incident involved a couple from Sudbury, Ontario, who say they were detained, questioned, and searched by customs for more than an hour after they said they were going to the women's rights march. They were eventually allowed through the border.
Amber Gazdic tells CBC she and her partner were pulled aside on Thursday. "We... were told essentially that, as Canadians, we had no right to go and participate in this march," she says.
They said "it's none of our business, and Canada has its own problems we should address. The impression that we got was that they were looking for a reason to not allow entry."
Gazdic says the couple were thoroughly searched for an hour before being granted entry.
"We were told that if we got in any trouble they would personally see to it that we would never be allowed entry to the US again," she added.
Gazdic claims that she felt a duty as a Canadian to stand up for her friends and family in the United States who "are in real danger of losing their health insurance as well as losing some of their important rights."
"I think it's important that my daughters know if there is something they believe in that they have to make an effort to represent that," she added.
US Customs and Border Protection declined to comment on its refusal not to allow Dyck in, and Reuters' requests for comment on Decunha were also denied. According to Customs, they are not at liberty to discuss individual cases.
Meanwhile, across the US, protests have been raging, leading to 217 arrests so far, following Friday's inauguration. A protest at the University of Washington in Seattle, organized by conservative pundit and speaker Milo Yiannopoulos, turned violent on Friday, leading to one young man being hospitalized with a "possible life threatening injury."
The injury was received as the result of scuffles between attendees and masked protesters. Police said the outside crowd was trying to pelt them with "bricks [and] other items."
You can share this story on social media: