Anti-Trump Inauguration Day protests break out across US, around the globe (VIDEOS, PHOTOS)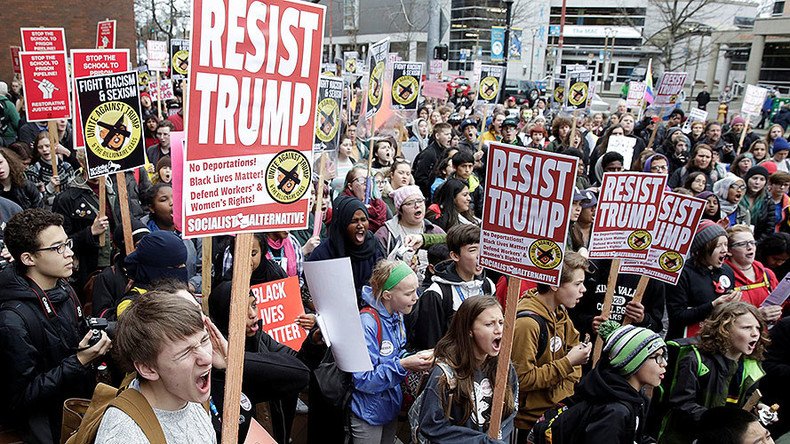 Unable to make it to Washington, DC for the inauguration, hundreds of people took the streets from New York City to Oakland in anti-Trump protests.
In New York, City Council member Jamanee Williams was arrested along with others as over 200 people protested outside Trump Tower.
One activist made use of the Manhattan skyline by flying a small plane over the Hudson River trailing a banner that read, "We outnumber him! Resist."
In Boston, hundreds of protesters chanting, "Education, not deportation," rallied outside the State House on Boston Common.
In Chicago, several hundred people rallied in Daley Plaza for their anti-Trump protest, waving Mexican flags during a march.
Students at the University of Illinois Chicago (UIC) chanted, "Not my president!" and "Hey, hey, ho, ho, Donald Trump has got to go!"
There was a bit of a musical twist as well.
In Maplewood, New Jersey, several hundred Columbia High School children walked out of class and headed to the town hall, as girls chanted, "My body, my choice," and boys responded, "Her body, her choice.
"Protests today were reflective of the fact that schools are a microcosm of society," school Supt. Dr. John Ramos told the Village Green. "If we consider what is going on across the country, we should not be surprised that there is a reaction in schools. Some of our students determined to make a social statement. As always, we should pay attention to what our students have to say."
In Oakland, California, protesters rallied at City Hall, chanting, "No racists, no deportations, no borders!"
A sign read, "We will not go quietly back to the 1950s," which seems to hark back to the repressive era for so many - women, gay and lesbians and African-Americans and indigenous groups.
Hundreds were out in Los Angeles, despite heavy rain that lasted hours.
Anti-Trump protesters have gathered in New Zealand and Australia to participate in the first of hundreds of so called global 'sister marches' planned for Saturday.
Some 2,000 people, gathered in Wellington, New Zealand for the protests under the slogan #WomensMarchOnWashington.
The Australian chapter later started in Sydney, where around 3,000 demonstrators gathered for a rally in Hyde Park before heading to the US consulate.
"Fight like a girl" and "Women's rights are human rights" were scrawled on some of the placards carried by the protesters.

A protester carrying "Tweet this" placard on his rear spotted in Wellington.
Activists worldwide also took part in Inauguration Day protests, from Kathmandu to London, with the campaign slogan, "We build bridges, not walls."
Activists set off rainbow-colored smoke on London's Vauxhall Bridge, with the slogan "Queer solidarity smashes borders."
A sign reading 'Open Minds' was held aloft the Millennium Bridge near St. Paul's in London.
And in Oxford.
Protesters in the city of lights, Paris, also joined in.
And Berliners said their bridges were built against fascism.
You can share this story on social media: