'Molested when we confessed': Duterte fires up at Catholic priests over pedophilia, corruption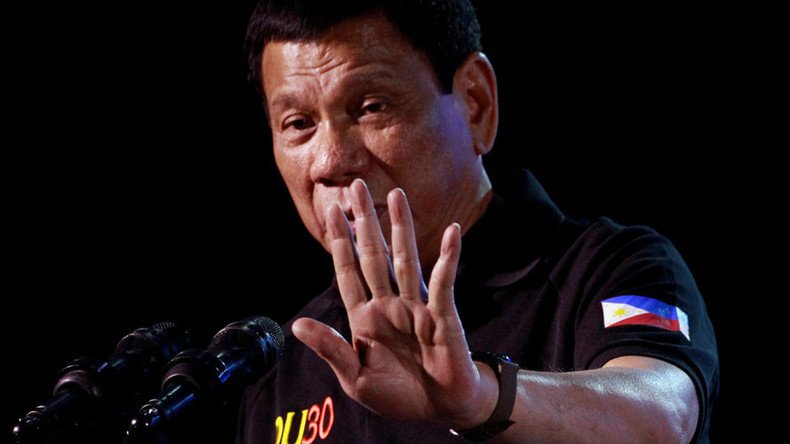 Unshaken by a blessing from Pope Francis, Philippines President Rodrigo Duterte has hit back at priests and bishops critical of his war on drugs, accusing clergymen of homosexuality, child molesting, hypocrisy and corruption. "You asked for it," he said.
"You expose me, fine. I expose you. Why? When you commit mistakes it's OK, but when we do, no? Bullshit. That's stupid," the president said during a speech to newly-promoted police officers at Malacañan on Thursday.
Duterte, who revealed in 2015 that he was molested by a priest when he was young in an act of "sexual awakening," but did not file a complaint for fear of "what would happen," said Catholic priests had their skeletons in the closet.
"You asked for it. If you want a showdown, then let's have a showdown. You mend your ways. If you cannot even give justice to the small boys that you have molested in the past, you do not have that moral ascendancy to lecture [me] on what to do. Sanctity of life? You're enjoying your worth," he said, as quoted by The Philippine Star.
"When we were young, I talked to cabinet members. When we were making confessions to you, we were being molested," he added.
As if this wasn't enough, Duterte mentioning alleged homosexual acts taking place inside seminaries.
"What will you do with the homosexuality in your seminaries? What have you done to the children there?... Mga le**e kayo [You fools]," he said.
"You are in palaces while your faithful are in squatters areas and then you talk about sanctity? Look at your mirror.
"What is your moral ascendancy in the Philippines? Religion? What is the meaning of it? You do not help us. You just keep on talking," he added in Tagalog.
Last week Duterte banned a number of X-rated websites in the country as part of a crackdown on child pornography. Sites including Pornhub and XVIDEOS are now reportedly inaccessible.
READ MORE: 'No one can stop me declaring martial law', Duterte warns amid escalating drug epidemic
During his speech to police officers, Duterte also lambasted the failure of the Church to truthfully explain how donations in the country – in which about 80 percent of the population are Catholic – had been used.
"What did the church do? The Catholic Church earns millions every week all throughout the Philippines. There are many churches. Where is the money of the people?" the president wondered.
"We explain how we use our funds to the people. You? Priests and bishops, you wear fancy clothes, you have vehicles. Do you have a house, even with just five rooms, for rehab? What did your church do?
"You count money instead of going around the neighborhoods, explaining to the people why they should not be in that industry because they will die. Now you want the killings to end? All you have to do is to preach because most of the people here are Catholics," he continued.
Duterte mentioned bishops who allegedly asked former President Gloria Macapagal-Arroyo to provide them with posh cars.
"Remember you asked vehicles from Gloria? Knowing full well that the policemen have no vehicles. You had [Mitsubishi] Pajero, you sons of b*****s," the president said.
"You were given vehicles knowing that there is a principle of separation between Church and State. It was sheer, purely graft and corruption because you did not deserve it. You cannot use property or money for your comfort. That is not for you but for the government but you had the gall," he added.
Earlier this week, Duterte lambasted the Church for its opposition to his war on drugs.
"The Church really doesn't understand. They know [the drug problem], they know that it is worst, and yet, they said that extrajudicial killing is not good," the president said, according to Sun Star Manila newspaper. "So other priests should use shabu so they would understand [that the drug problem worsens]. I recommend one or two of the bishops take it also."
Shabu is a Philippines slang term for the highly addictive crystal methamphetamine which is the most popular illegal drug in the country.
On Wednesday, Pope Francis blessed the Philippines and its president. According to Presidential Adviser on the Peace Process Jesus Dureza, Duterte asked the pontiff to bless the country, and Francis replied that the president would get his blessing as well.
You can share this story on social media: