Obama's sanctions 'gesture of despair, poisoned gift' for Trump admin – Russian senator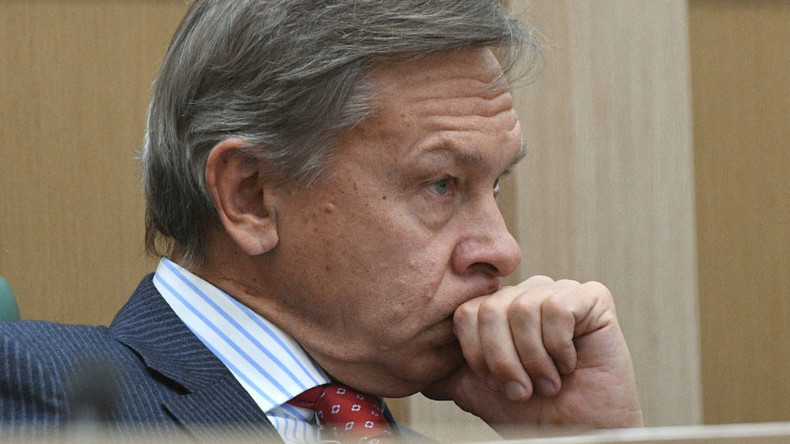 Obama's sanctions against Russia are simply a "gesture of despair" and could be a "poisoned gift" for the Trump administration, Aleksey Pushkov, Chairman of the Federation Council Mass Media Committee, told RT.
The recent sanctions are an indication of the Obama Administration's "incapacity to isolate Russia, to weaken Russia," Pushkov said.
The senator called the sanctions a measure of "vengeance and retaliation."
"Nothing actually worked out the way President Obama wanted it to work out," he said, adding that the Obama administration wanted "to take revenge on Russia and Russian President Vladimir Putin."
The new sanctions could be a problem for the administration of President-elect Donald Trump "because Russia will take some measures in return," Pushkov said.
"This is a poisoned gift for from Obama administration for Trump administration [sic]. And the Trump administration will have to deal with this poisoned gift. Hope they will not eat it and not get contaminated.
"But they would have to prove that it was an emotional move by Obama administration. And that can't be fine for the future state of Russian-American relations."
Meanwhile, a diplomatic source told RIA Novosti news agency that a new round of US anti-Russian sanctions could be partly linked to the Obama administration's Israeli-Palestinian policy. The source said that Russia refused to support measures proposed by the Obama administration aimed at resolving the Israeli-Palestinian conflict.
After Russia voted in favor of the UNSC resolution that called for an end of the Israeli settlement building on the occupied territories, "Sergey Lavrov, the head of the Russian Foreign Ministry, informed the [US] State Secretary John Kerry that Russia will not support proposals concerning the Israeli-Palestinian developed by the current US administration," the source told RIA Novosti, adding that this move could have contributed to the US president's decision to impose new sanctions against Russia.
On Thursday Barack Obama announced a set of countermeasures in response to what he called "the Russian government's aggressive harassment of US officials and cyber operations aimed at the US election."
Thirty-five Russian diplomats have been expelled from the US, with Obama branding them "intelligence operatives." Two Russian diplomatic compounds were closed, in New York and Maryland.
READ MORE: Zakharova: 'Obama team are foreign policy losers, humiliate Americans with anti-Russia sanctions'
According to the US president, nine Russian entities, including the GRU (Russian Military Intelligence) and the FSB (Federal Security Service), have been sanctioned.
Kremlin press-secretary Dmitry Peskov said that sanctions are another manifestation of the unpredictable and aggressive foreign policy by the Obama administration.
The Obama administration and the losing Democratic presidential candidate, Hillary Clinton, have repeatedly accused Moscow of being behind cyberattacks that targeted Clinton and her campaign chairman, John Podesta, during their campaign.
They said that the whistleblower website WikiLeaks obtained the damaging hacked emails, which dashed Clinton's chances to win, from Russian intelligence agencies.
You can share this story on social media: