Zakharova: 'Obama team are foreign policy losers, humiliate Americans with anti-Russia sanctions'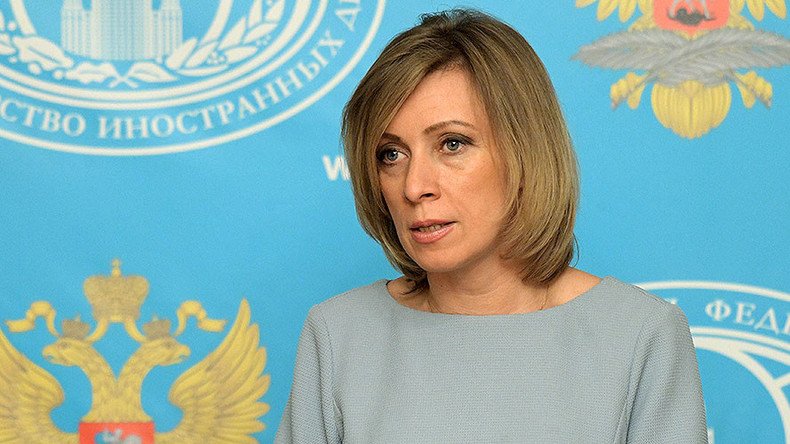 Russian Foreign Ministry spokeswoman Maria Zakharova has posted a scathing Facebook comment on US President Barack Obama's approval of new anti-Russian measures, arguing Obama's "bitter" and "helpless" team did a disfavor to the White House's reputation.
READ MORE: Kremlin: New sanctions underline Obama admin's 'unpredictable & aggressive' foreign policy
Zakharova wrote that the outgoing president did not manage to leave "any" major foreign policy achievements as part of his legacy and instead of "putting an elegant period" to his two presidential terms has "made a huge blot" with his latest decision to impose more sanctions on Russia, expelling 35 Russian diplomats and closing two diplomatic compounds in the US.
"Today America, the American people were humiliated by their own president. Not by international terrorists, not by [the] enemy's troops. This time Washington was slapped by own master, who has complicated the urgent tasks for the incoming team in the extreme," Zakharova wrote, labeling the current administration "a group of foreign policy losers, bitter and narrow-minded."
"Today, Obama officially admitted it," she wrote.
Zakharova then offered her sympathy to Secretary of State John Kerry, who, she argued, had also suffered under the current administration as he was unable to do his job properly, being constantly "mocked" and "let down" by his own colleagues.
"Mr. Kerry, in this difficult moment for the United States, let me convey you the words of sympathy – you have done all what was possible to avert your country's collapse in foreign policy," she said, giving credit to Kerry's diplomatic skills.
"Out of this group of spoilers, I pity only Kerry. He was not an ally. But he tried to be a professional and maintain his human dignity."
Zakharova also said that with its incoherent foreign policy, Obama's administration has inadvertently debunked a long-cherished myth of America's exceptionalism that claims a special place in the world.
"This is it, [the] curtain [has dropped]. The bad performance is over. The whole world, from the front row to the balcony, is watching a devastating blow to America's prestige and its leadership, dealt by Barack Obama and his semi-literate foreign policy team, which has exposed its main secret to the world – exceptionalism was a masked helplessness."
"No enemy of the United States could have done worse," Zakharova concluded.
The spokesperson promised that the US won't have to wait too long for Moscow's response.
"Tomorrow there will be official statements, countermeasures, and much more," she wrote.
On Thursday, Washington issued new sanctions against Russian citizens and entities in retaliation for what it described as "malicious cyber-enabled activities" allegedly orchestrated by the Russian government.
READ MORE: Report on 'Russian hacking' offers disclaimers, barely mentions Russia
Among the sanctioned institutions are Russia's Federal Security Service (FSB) and Main Intelligence Directorate (GRU) and their senior officials. The US has also expelled 35 Russian diplomats, which it claimed to be "intelligence operatives" and closed two compounds, in Maryland and New York.
The sanctions were condemned by Kremlin spokesman Dmitry Peskov as "unjustified and illegal under international law."
You can share this story on social media: