Philippines President Duterte should be impeached after confessing he killed suspects – senators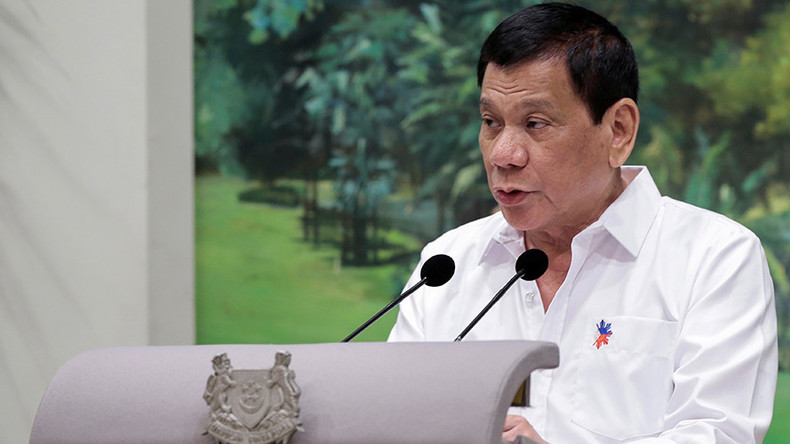 Philippines President Rodrigo Duterte's confession that he used to kill suspected criminals while serving as mayor of Davao is grounds for impeachment, two of the country's senators have claimed.
"That is betrayal of public trust and that constitutes high crimes because mass murders certainly fall into the category of high crimes. And high crimes is a ground for impeachment under the constitution," Senator Leila de Lima told CNN on Thursday.
De Lima has been Duterte's most outspoken domestic critic, and has led an inquiry into the president's 'war on drugs'. Allies of the president filed a criminal complaint against her this week, claiming she has shown "disrespect to the House of Representatives."
However, De Lima isn't the only senator speaking out against the controversial Duterte. Her statement was echoed by Senator Richard Gordon, who heads the Senate Justice Committee.
Read more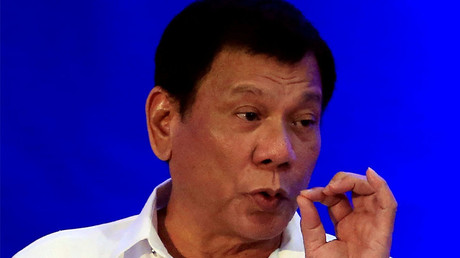 "When he says that, he's opening himself up, so what's the legal way? Then go ahead and impeach him," Gordon told reporters.
The senators' remarks are in response to comments made by Duterte earlier this week, in which he claimed he used to "personally" attack suspects while serving as mayor of the Philippines city of Davao, "just to show to the guys [police officers] that if I can do it, why can't you?"
"I'd go around in Davao with a motorcycle, with a big bike around, and I would just patrol the streets, looking for trouble also...I was really looking for a confrontation so I could kill," Duterte said at a business forum.
However, Duterte's allies in Congress have stressed that impeaching the president is a game that his opponents are unlikely to win. There are fewer than 50 opposition lawmakers in the 293-member lower house of Congress, while a two-thirds vote is needed to impeach a president.
Meanwhile, others within the Philippines government have shrugged off Duterte's statements, including Justice Minister Vitaliano Aguirre, who called them an exaggeration.
"It's like a hyperbole – that's the president. He is used to exaggerate (sic) just to put his message across," Reuters quoted Aguirre as saying on Thursday, citing radio reports.
Aguirre went on to say that even if Duterte did kill suspected criminals, that doesn't necessarily mean he violated the law.
"It could be done with a justifiable cause and justified circumstances as a public officer in order to arrest, but if they resisted, he must have been forced," he said.
Read more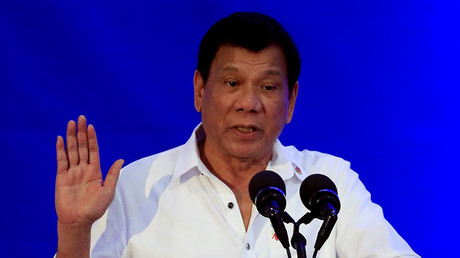 Duterte's words are the latest in a string of controversial statements from the leader, whose 'war on drugs' has seen more than 2,000 people killed in police operations since July. Almost all were shot when they resisted arrest. Another 3,000 deaths are under investigation, with critics calling them vigilante killings.
The president's campaign against drugs has come in for widespread criticism, including from the US, the European Union and the United Nations.
But despite that, Duterte continues to carry on, having vowed to continue until the end of his term.
The leader made headlines earlier this week after admitting that he faked an illness during the APEC summit to avoid meeting with US President Barack Obama, whom he previously called a "son of a b**ch/whore" and told to "go to hell."
In November, Duterte pointed his criticism towards European lawyers, saying they have "brains like a pea" and that Western courts are "bulls**t."
READ MORE: Duterte calls out 'devil' Ban Ki-moon & EU in latest tirade
UN Secretary-General Ban Ki-moon wasn't immune from Duterte's wrath, either. The leader called him a "devil" in September.
However, it seems Duterte doesn't have ill feelings towards absolutely everyone. He has hailed Donald Trump's victory in the US presidential election, saying he doesn't want to fight the United States now that Trump has been elected.
READ MORE: 'I'm just small molecule compared to Trump' – Duterte
He went on to express what he believes are similarities between the two, saying: "We both like to swear. One little thing, we curse right away, we're the same."