Duterte admits personally killing suspected criminals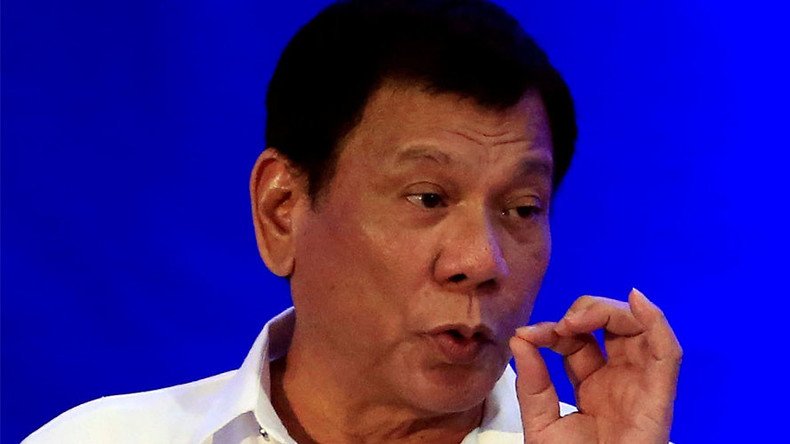 Hardline Philippines President Rodrigo Duterte has admitted he personally killed suspected criminals during his time as mayor of the southern city of Davao, saying he patrolled the streets on a motorcycle, "looking for trouble."
The firebrand leader made the confession in a speech on Monday night to businessmen as he discussed his anti-drug efforts, according to AFP.
Speaking about police officers and unknown assailants killing suspects, Duterte recalled the time when he was mayor of Davao, the third most populous metropolitan area in the Philippines with more than 1.6 million inhabitants.
"In Davao I used to do it personally. Just to show to the guys [the police] that if I can do it, why can't you," Duterte said.
He went on to add that he would "go around in Davao with a motorcycle, with a big bike around, and I would just patrol the streets, looking for trouble also. I was really looking for a confrontation so I could kill."
Duterte rejected criticism from international rights groups that accuse him of giving the green light to extrajudicial killings and the use of excessive force, and said he would not stop the notorious war on drugs anytime soon.
Previously, documents released by WikiLeaks alleged that Duterte ran a vigilante group called the Davao Death Squad that killed over 1,000 suspected criminals – a claim he has always denied.
In July, just weeks after taking office, Duterte unleashed an attack on drug traffickers and addicts, telling his supporters in Manila: "If you know of any addicts, go ahead and kill them yourself as getting their parents to do it would be too painful."
Other inflammatory statements followed, making clear the leader's strong attitude toward suppressing drug trafficking. In September, Duterte said he would be "happy" if his relentless drug war was as effective as the Holocaust.
"Hitler massacred 3 million Jews. Now, there are 3 million drug addicts... I'd be happy to slaughter them," he said. "If Germany had Hitler, the Philippines would have...," the president went on, pointing to himself.
"You know my victims. I would like [them] to be all criminals to finish the problem of my country and save the next generation from perdition."
While Duterte's blunt remarks on combatting drug trafficking have faced widespread international condemnation, the rhetoric has not endeared him to local drug lords, either. Earlier this year, they raised the bounty on his head from 10 million pesos (US$216,000) to 50 million pesos ($1.08 million). In turn, the Philippines strongman offered a reward of 5 million pesos ($108,000) for each drug lord "if he is dead."
You can share this story on social media: