'Go ahead & kill' drug addicts, Philippines president says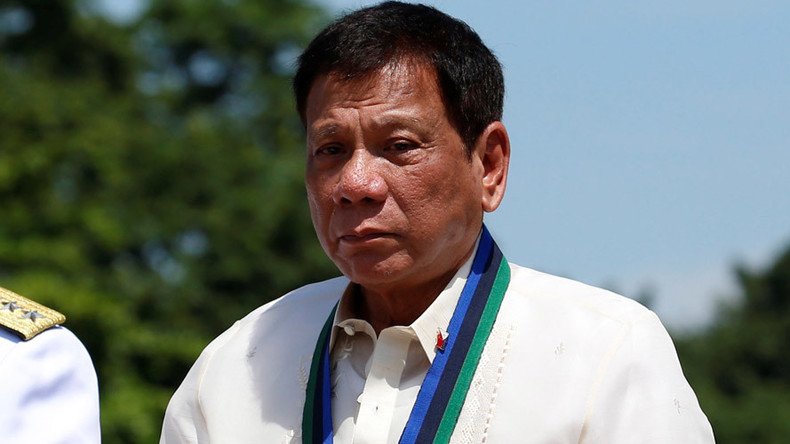 New Philippines President Rodrigo Duterte, who has recently declared "a bloody war" on drug cartels, has called on willing Filipinos to "go ahead and kill" drug addicts, amid concerns that "getting their parents to do it would be too painful."
Duterte, who said during his campaign that some 100,000 criminals would die in his crackdown, their bodies dumped in Manila Bay, has been conspicuously deaf to criticism that he was promoting a "culture of death" in his native country.
After taking his oath inside the Malacanang presidential palace, Duterte, 71, continued his defiance and threats against drug traffickers in front of a crowd of some 500 people gathered in a Manila slum Thursday night.
"These sons of whores are destroying our children. I warn you, don't go into that, even if you're a policeman, because I will really kill you," the outspoken Philippines leader told the crowd, AFP reported.
"If you know of any addicts, go ahead and kill them yourself as getting their parents to do it would be too painful," he added.
Setting up funeral parlors would help earn some money, Duterte noted.
"I assure you [that] you won't go bankrupt. If your business slows I will tell the police, 'Do it faster to help the people earn money.'"
During his speech at the presidential palace, Duterte highlighted that among the key problems that currently "bedevil" Philippines are "corruption, both in the high and low echelons in government, criminality in the streets and the rampant sale of illegal drugs in all strata of Philippines society and the breakdown of law and order."
Duterte warned that his fight against crime would be "relentless and sustained," pledging that it will remain within the boundaries of the law.
"As a lawyer and former prosecutor, I know the limits of the power and authority of the president. I know what is legal and what is not. My adherence to due process and rule of law is uncompromising," Duterte vowed.
Unsurprisingly, such rhetoric has not endeared Dutarte to local drug lords. Last month, they raised the bounty they had put on the president, the Manila Bulletin reported. Over $1 million has now been promised for the assassination of the new leader.
Duterte in his turn offered a reward of 5 million pesos ($108,000) for a drug lord "if he is dead," urging the public to join his far-reaching anti-crime fight.
Documents released by WikiLeaks allege that Duterte, who was mayor of the southern city of Davao for over 22 years, has been linked with a vigilante group called the Davao Death Squad. According to Human Rights Watch, these "brutal death squads have claimed the lives of more than 1,000 people" during his tenure as mayor.
You can share this story on social media: