Bounty war: Drug lords raise offer for Philippines leader's head to $1,000,000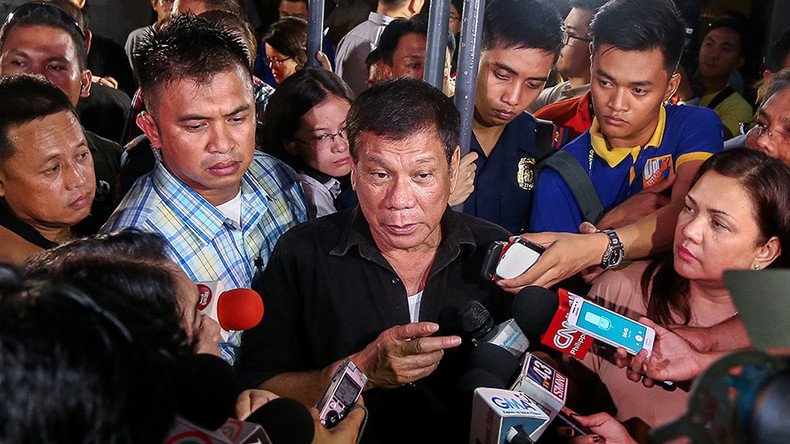 Drug lords have raised the ante for anyone who kills Philippine President-elect Rodrigo Duterte, local media report. Over $1 million will be paid for the assassination of the country's new leader, who has recently declared "a bloody war" on drug cartels.
The incoming police chief Ronald Dela Rosa said he had received a tip-off from a source saying that raising the reward from 10 million pesos ($216,000) to 50 million pesos ($1,083,845) was the main subject of a meeting between drug lords currently behind bars at the National Bilibid Prison (NBP) in Muntinlupa, Philippines.
"What they did not know is that one of those present in the meeting has told me what they discussed," Dela Rosa told the Manila Bulletin.
When asked how he plans to deal with them, Dela Rosa reportedly replied: "They should be taken out of the NBP horizontally."
Last week, the Philippines' president elect urged the public to join his anti-crime fight and pledged to be tougher on local law enforcers and officials found to be protecting and covering up drug lords and other criminal groups.
Duterte, 71, who won the presidential election last month, has publicly acknowledged that his anti-crime campaign would be "a bloody war," and offered a reward of 5 million pesos ($108,000) for a drug lord "if he is dead."

"If he is alive, only 4.999 million," he added, laughing, according to AFP.
Duterte, who has been mayor of the southern city of Davao for over 22 years, said he is deaf to criticism that he was promoting a "culture of death." Documents released by WikiLeaks allege Duterte has been linked with a vigilante group called the Davao Death Squad. It is suspected of being behind dozens of killings.
"If they [criminals] can't be talked into changing, let's kill them," the Manila Bulletin quoted him as saying.
"If they are there in your neighborhood, feel free to call us, the police or do it yourself if you have the gun. You have my support," he told crowds of cheering supporters.
"If he fights and fights to the death, you can kill him," Duterte, who officially takes office on June 30, suggested.
"I will give you a medal," he added, noting that drug addicts will not be rehabilitated. He warned: "If you are involved in drugs, I will kill you. You son of a whore, I will really kill you."
You can share this story on social media: