'Fallen Angels': Sex tourism & Philippines' abandoned fatherless kids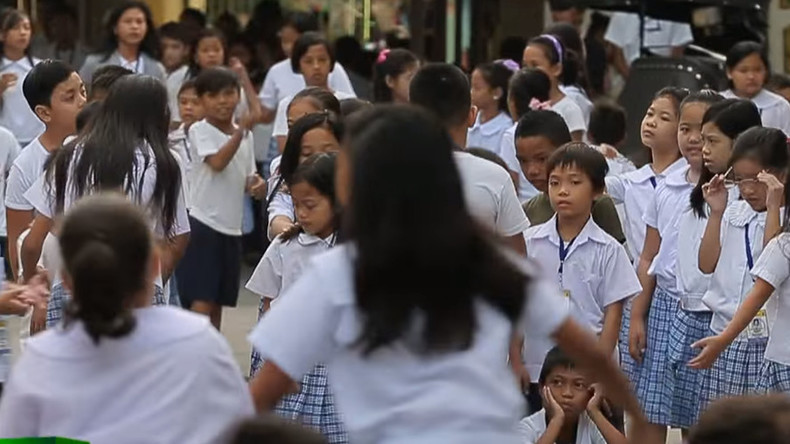 Angeles City in the Philippines is a well-known sex tourism destination, particularly for retired men in search of sex for sale. One frequently ignored offshoot of this is the sex workers' children, who are subsequently abandoned, by foreign travelers.
Catholicism is the dominant religion in the country but with Angeles once home to an American air base, the city's reputation became intertwined with the sex industry and is often branded as "Sin City."
While the booming sex industry has been previously reported, the number of children growing up in the city without a father goes ignored.
Hundreds of young women in city find themselves with no other option than to sell their bodies for sex at various bars and nightclubs across the city. Speaking to an RT Documentary crew, a number of these women, now also mothers, say the fathers of their children will often deny that a child is theirs or just don't care.
Often, it is the men's lies that result in these unplanned pregnancies with women, who have sometimes been beaten or raped. One woman, Sarah, explained to RT that the father to her child, an Australian man, plied her with alcohol before she passed out. When she woke up, he told her "nothing happened."
"I believe he took me by force," she said. "Later, I asked him what happened. He said 'Nothing. Nothing happened'."
When Sarah found out she was pregnant, she told the father but he didn't believe her.
"I told him he was my only client who didn't use condoms," Sarah says, but the man refuses to recognize his daughter. Even though she has a newborn, Sarah continues to prostitute herself to make ends meet and make sure there's food on the table. Her son is left with her aunt, Nalee, who also has a daughter born of an encounter with a Scottish sex tourist.
In Nalee's case, the man told her he had had a vasectomy. "But how did I get pregnant if he was sterile," Nalee asks. "I didn't know I was pregnant. A month later I did a test and it came back positive... If I'd known I was pregnant I would have taken pills."
"I don't care if you don't want to help me but you have to support your daughter," an emotional Sarah says. "I'll keep working at the bar just to provide for my child."
Sarah is well aware of the dangers involved in her line of work and says she is often "scared that something bad might happen" or that she'll "get beaten up."
"That happened to a friend of mine," she told RT. "There's a rumor that one of the girls was killed at the American hotel and her body hidden under the bed."
For this reason, Sarah says she prefers "working" with older clients. "If I tell them I have to go home, they let me and at times they pay me extra, so I can buy milk for my daughter," explained Sarah.
While the women try and do the best for their children, the kids themselves remain optimistic about their situation but do still miss their fathers. One such child is 12-year-old Jean-Lester, who hopes that one day he might meet his father.
"I've grown up, Dad. I hope to see you one day," he says. "I wish you could come to my birthday."
Jean-Lester's father was a German tourist who left before the child was born. His mother then abandoned him when he was 2-months-old, leaving him in the care of a transgender neighbor named Pia.
"I love you very much, Pia. Please don't abandon me," Jean-Lester says. "Thank you for taking care of me. You raised me God won't take her away from me, so I'll take care of her when I grow up."
Although their fathers may have abandoned them and they are being raised in slum like conditions, the children are surprisingly optimistic about their futures. Jean-Lester says he wants to become a teacher "and help the children who can't go to school."
"I'll teach them until they finish school and help them any way I can," the child says. He doesn't want to stop there though. "After becoming a teacher, I want to become a doctor too," he adds. "I want to be able to cure various diseases. That way I'll be able to treat Pia and other sick people."
A friend of Jean-Lester's, Mary-Ann, is also a byproduct of the sex industry. The daughter of another German sex tourist who fled, the young girl says she has often imagined what her father looks like.
"I see him with long, pretty hair and a beard, this is what he looks like," the 12-year-old says. "That's what a lot of the foreign men that my mum has dated have looked like."
Although she may be only 12-years-old, Mary-Ann is not oblivious to her history but is not keen to repeat it either.
"I don't want to work in a bar, like my mom had to," she says. "I don't want to only have two years of schooling like her and end up working in a bar because I want to become a doctor when I grow up."
Another woman told RT Documentary how her son's father, an American man who still lives in the city, accepts he is the dad. For his part, he pays the mother 2000 pesos ($50) per month but she still struggles to provide food for family, some days having to ask her neighbors for food. According to the man's neighbors, he has "a lot of girls that have more babies" and that each of them "gets 2000 pesos," for which they must call to his house at a specific time and date to get the money.
At least one tourist bucked the trend when he visited the city and ended up marrying one of the prostitutes, Jen, after she fell pregnant in 2001.
"I just love her… the smile, she's very funny and a very good face," Patrick, an Irishman, told RT. Still living in Angeles, Patrick and Jen have three children but luck hasn't been on their side when it comes to health. Patrick suffered a stroke in 2013 with his wife, now 34-years-old, suffering one shortly after, for which she remains bedbound and unable to talk, with Patrick caring for her.
For the men that visit Angeles in search of sex though, unplanned fatherhood hasn't been deterrent and many don't care about the consequences.
"You can take the girl out of the bar, but you can't take the bar out of a girl… because they never change, they want the money," one male tourist told RT. "It's hard to trust a Filipino woman."