Houthi leader accuses UK of war crimes in Yemen over arms sales to Saudi Arabia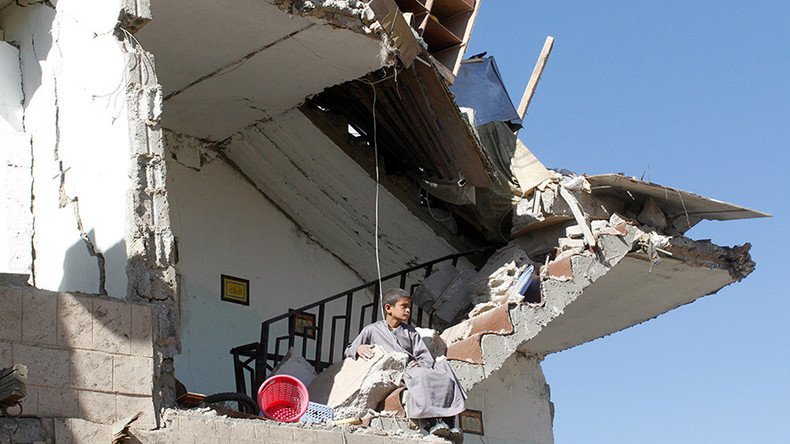 The new prime minister of Yemen's Houthi movement says Britain is guilty of war crimes in Yemen, accusing the country of participating in the bombing of civilians through its sales of arms to Saudi Arabia.
"They have sold cluster bombs to Saudi Arabia," Abdulaziz bin Habtour, prime minister of the newly formed Houthi government, told Sky News. "They know the Saudis are going to drop them on Yemen... in Sa'adah and in Sana'a and other provinces."
"I don't think they are guilty of war crimes, I believe so. They are participating in the bombing of Yemen people."
Bin Habtour went on to state that British-made cluster bombs have been found in Sa'adah, along with a British-made Storm Shadow cruise missile which the UK's Ministry of Defense calls "arguably the most advanced weapon of its kind in the world."
It is believed that Saudi Arabia has British-made cluster bombs bought in the 1980s and 1990s, as the UK agreed to stop using and selling them around six years ago. The Convention on Cluster Munitions also states that signatories will "never under any circumstances assist, encourage, or induce" anyone to use such munitions.
Bin Habtour's statements come less than two weeks after British Foreign Secretary Boris Johnson defended the UK's arms sales to Saudi Arabia, denying claims that Riyadh's bombing campaign in Yemen violates international law. Johnson went on to say that the actions of Saudi Arabia in Yemen are justified, and even supported by the UN.
Britain refused to stop selling arms to Saudi Arabia in November, rejecting calls by two parliamentary committees and human rights groups.
Saudi Arabia intervened in Yemen in March 2015, launching airstrikes in order to stop Houthi advances and reinstate ousted Sunni President Abd-Rabbu Mansour Hadi to power. Riyadh is backed by a coalition of nine Arab countries, which has been armed by the UK and US, while the Houthis are aided by Iran.
READ MORE: Yemenis 'slowly starving' to death as world 'turns blind eye' – aid charity
Up to 10,000 people have so far been killed since the fighting began, including 3,800 civilians, according to UN estimates. The UN stated in August that airstrikes conducted by the Saudi-led coalition are responsible for the majority of civilian deaths, while calling for an international investigation into the coalition's violations in Yemen.
Human Rights Watch revealed in October that the coalition - with direct military support from the US and assistance from the UK - has conducted at least 58 "unlawful airstrikes" since March 2015, with other human rights organizations and the UN having documented dozens more.
However, the Saudi-led coalition has maintained that it does not target civilians.
You can share this story on social media: