Yemenis 'slowly starving' to death as world 'turns blind eye' – aid charity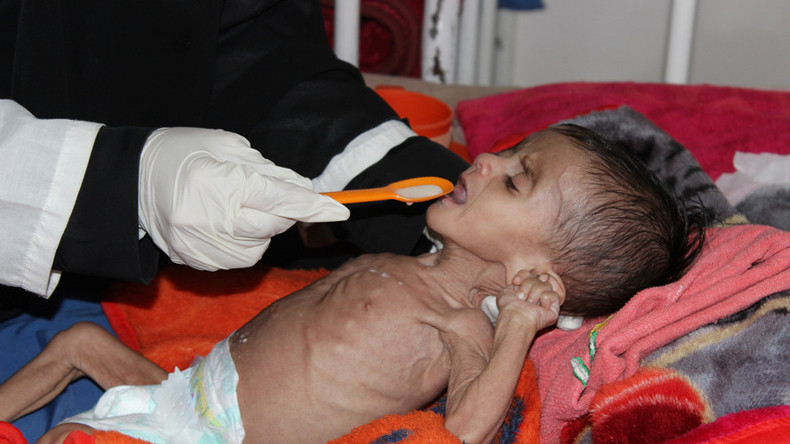 The people of Yemen are 'slowly starving' to death as the world turns a blind eye, human rights organizations and charities warn.
International aid organization Oxfam warned that the people of Yemen are at risk of running out of food by April, which will also mark two years of conflict in the poorest country in the Middle East.
Saudi Arabia began bombing the country in support of exiled president Abd Rabbo Mansour Hadi at the end of March 2015, after Houthi rebels loyal to former president Ali Abdullah Saleh, said to be backed by Iran, took over the capital of Sanaa.
READ MORE: #600Days of siege & genocide: Twitterstorm calls for an end to Yemen conflict

Over three million people have been displaced by the conflict which has taken more than 11,000 lives, Oxfam said. Child malnutrition has jumped by 200 percent in two years and the World Health Organization has recorded over 7,000 suspected cases of Cholera.
Half the population is suffering from food insecurity and malnutrition, while 82 percent are in need of humanitarian assistance, Oxfam reports.
"Yemen is being slowly starved to death," Oxfam GB chief executive, Mark Goldring said. "First there were restrictions on imports – including much-needed food. When this was partially eased, the cranes in the ports were bombed; then the warehouses, then the roads and the bridges. This is not by accident – it is systematic."

The group is urging the Saudi-led coalition to lift restrictions in order to allow food and other supplies to make it to the people. It reports the amount of food being imported fell below amounts needed to feed half the people in August and has remained at that level since.
"The country's economy, its institutions, its ability to feed and care for its people are all on the brink of collapse," he added.
The US and the UK have provided support, both in terms of weapons and tactical assistance, despite reports of civilian deaths and war crimes.
READ MORE: US servicemen may be charged for 'aiding and abetting war crimes' in Yemen – Congressman

"As one of the principal backers of this brutal war, Britain needs to end its arms sales and military support to the Saudis and help put Yemen on the road to peace," Goldring said.
The UN has also voiced concerns for the Yemeni plight, accusing the world of ignoring the humanitarian crisis. "The world has turned a blind eye to what's happening in Yemen," senior UN Jamie McGoldrick, a senior UN official in Yemen told the BBC . "Right now we are so under-resourced for this crisis, it's extraordinary."
"The politics of the situation has overcome the humanity," he said. "Families are just not able to feed their families."
Amnesty International's director for arms control Oliver Sprague described UK Prime Minister Theresa May and Boris Johnson's efforts to justify the government supplying Saudi Arabia with arms as "a disgrace."
"With such a clear and continuing risk that any British arms sold to Saudi Arabia could be used to commit breaches of international humanitarian law in Yemen, the UK should immediately suspend all such arms sales."
READ MORE: 'Threshold not crossed': Boris Johnson denies Saudi bombing massacres in Yemen breach int'l law

Apparent Saudi-led coalition air strikes on a wedding in September killed 131 people in Sanaa, while a strike on a funeral killed 140.
You can share this story on social media: