US servicemen may be charged for 'aiding and abetting war crimes' in Yemen – Congressman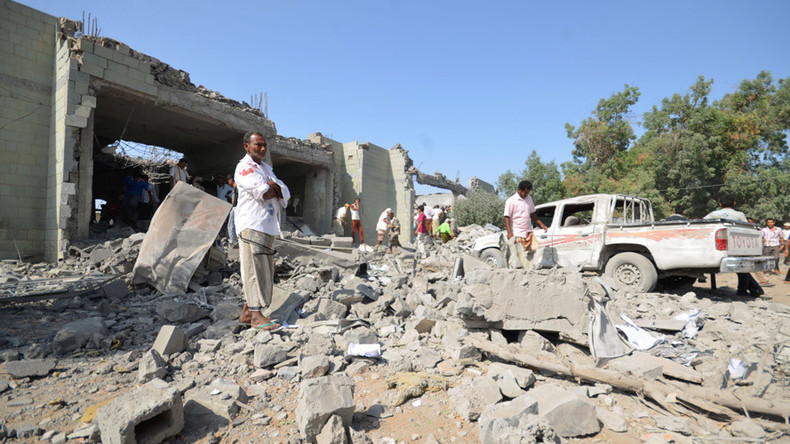 US military personnel may be subject to war crimes probes if the Saudi-led coalition hits civilian targets in Yemen because the US refuels the coalition's jets, Ted Lieu warned in a letter to Pentagon chief Ashton Carter and Secretary of State John Kerry.
Lieu, a Democratic member of the House of Representatives and a former US Air Force lawyer, argued that while the US distanced itself from reviewing and selecting targets in Yemen, it nevertheless could bear responsibility for the Saudi-led coalition air strikes if they hit civilians, as American tankers refuel jets on bombing missions.
"The US would appear to be violating the LOAC [Law of Armed Conflict] and international standards by engaging in such direct military operations if US personnel are not aware if targets are civilian or military, of the loss of life and property are disproportional, or if the operation is even military necessary," Lieu wrote in an official letter from November 2, asking to "clarify the role of the US" in the war in Yemen.
He reminded the addressees that the first concerns about US servicemen in Yemen potentially being involved in the breach of the war conduct were raised by the State Department lawyers in October. However, "the Administration nevertheless chose to proceed to aid and abet the Coalition," he pointed out.
By turning a blind eye to what type of targets the US is exactly helping to destroy, Washington has shown "willful blindness," Lieu writes, adding that the situation seems to be deteriorating for the US as more evidence on Saudi-led coalition strikes on civilian targets, such as hospitals, schools, markets and peaceful processions like weddings and funerals emerges.
READ MORE: US calls for 'end to Saudi-led airstrikes' in Yemen, but keeps selling arms to Riyadh

"By now, the US has knowledge that, in the past 18 months, coalition jets have struck civilian targets multiple times," he says, citing Amnesty International's estimates that coalition jets in Yemen have carried out "at least 70 unlawful airstrikes."
The increasing number of civilian casualties in the Saudi-led coalition's bombing campaign brings US servicemen "at legal risk of being investigated and potentially prosecuted for committing war crimes," Lieu says. He adds that they can be found guilty under both international and US law.
The Saudi-led coalition was accused of war crimes following the deadly airstrike on a funeral on October 8, that left at least 140 people dead and hundreds injured. The ceremony was held for the late father of a senior Houthi official. Upon internal investigation carried out by the Joint Incidents Assessment Team (JIAT), the coalition issued an apology, calling the bombing "an unintentional incident," while blaming it on misleading intelligence.
In the aftermath of the incident, US vowed to conduct an "immediate review" of its support for the coalition, with White House National Security Council spokesman Ned Price saying in a statement that US security cooperation with Saudi Arabia is not a "blank check."
You can share this story on social media: