'Arab voters make no difference:' Israeli coalition chairman triggers uproar with provocative remark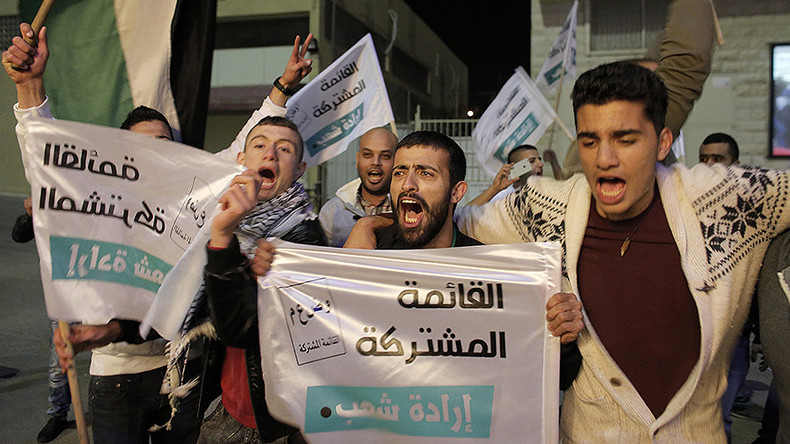 The Israeli ruling coalition chairman's controversial statement that it would be "preferable" if Arabs "weren't able to come" to polls since they "make no difference" anyway, was branded as "racist" and "antidemocratic" by opposition politicians and minorities.
The provocative remark was made by the Israeli parliament's coalition chairman, Likud MK David Bitan, while attending a cultural event in Mevasseret Zion, suburb of Jerusalem on Sunday.
"What I'm saying is, if they [Arabs] weren't able to come [to vote], that would be preferable, but it makes no difference; it's not for me to tell them whether to come or not to come [to vote]," the Times of Israel quoted Bitan as saying.
"Ninety-five percent of Arab Israelis vote for the Joint List, which does not represent the Arabs of Israel but rather Palestinian interests," added Bitan, referring to the coalition of four Arab parties, which is the third largest faction in the Knesset.
The remark swiftly drew the attention of opposition politicians, both Jewish and Arab, who accused Bitan of being racist and undemocratic.
"In a normal country, such racist comments would lead to the immediate dismissal of the coalition chairman," Joint List MK Youssef Jabareen said, calling for removal of Bitan from office.
The Joint List chairman, MK Ayman Odeh said that it was not a surprise to hear such statements from the "great democrat" Bitan, but stressed that "his and the government's racism is just [something] I engine to increase [Joint List's] political power."
Opposition leader Isaac Herzog of Zionist Union harshly criticized Bitan's words, ultimately comparing them with Nazi policy.
"The coalition chairman in the Jewish state calls to deny voting rights to minorities, just as the anti-Semitic leaders of Europe did in the past to the Jewish people," Herzog said.
"Likud in 2016 is light years away from its roots and what Likud used to stand for," the Times of Israel quoted Zionist Union MK Tzipi Livni as saying.
"Netanyahu lost all shame in the [2015] election," Livni stressed, probably referring to similar remarks of PM, who warned his supporters on the election day of "Arab voters going in droves to the polls." Netanyahu's remarks also drew accusations of racism, and he had to retract them and apologize.
Likud party members tried to soften the controversial remarks made by their colleague David Bitan.
"I very much hope that the Arabs do vote. I hope that we are attractive enough that the Arabs also to want to vote for Likud," Likud MK Yehudah Glick produced a gentle comment on his fellow party member's controversial remarks.
David Bitan, in his turn, declined to retract his original remark and produced a new one, showing quite an interesting understanding of the concept of democracy.
"I do not understand what the fuss is about," the Times of Israel quoted Likud MK as saying. "No political party wants to see its opponents going to the polls."
You can share this story on social media: