Israeli minister calls Abbas '#1 foe' after Palestinian leader calls for mutual recognition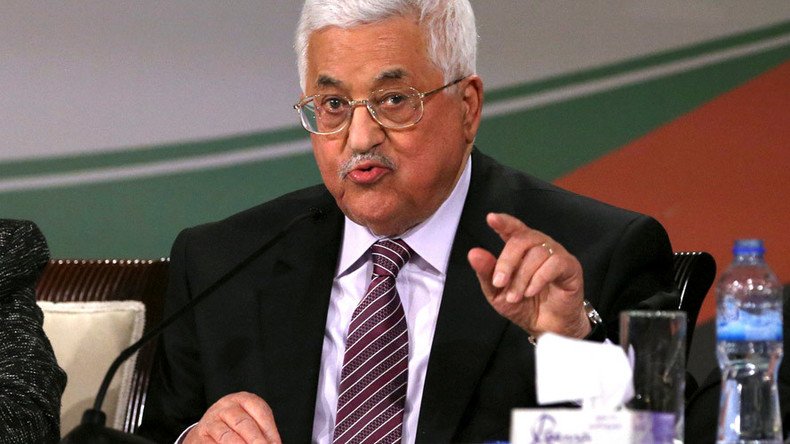 Energy minister Yuval Steinitz said Palestinian National Authority President Mahmoud Abbas represents the top ideological threat to the Jewish state after Abbas vowed to withdraw recognition of Israel if it keeps refusing to reciprocate.
Speaking at a Fatah party congress on Wednesday, Abbas noted that although Palestine recognized Israel, Israel is not poised to do the same, adding that Palestine's commitment "is not free" and eventually comes down to Israel's decision to recognize Palestine in return.
If the latter is not happening, Palestine will mull withdrawing its recognition after all other options are exhausted, Abbas said. However, he stressed that "at the moment, we must lead a peaceful popular resistance and we want to keep our hand extended for peace."
Abbas' comments did not sit well with Steiniz, a long-time ally of Israeli Prime Minister Benjamin Netanyahu and a member of his right-wing Likud party, who dubbed them "another sad joke" in an interview with Israel Radio, as cited by the Times of Israel. The minister claimed that the Palestinian leader "has never recognized Israel's right to exist" and "to this very day rejects Israel's right to exist."
"Abbas is talking about stopping his recognition of Israel, but first he should start recognizing Israel," Steiniz said, adding that "from an ideological perspective, Abbas is the number one enemy of the very existence of Israel, even more so than [former PNA President Yasser] Arafat," as cited by the Jerusalem Post.
Arafat, Abbas's predecessor as the Palestine leader was a living symbol of armed resistance to Israel occupation before he died in 2004. Being the Chairman of the Palestine Liberation Organization (PLO), in 1990 he agreed to enter into peace negotiations with Israel that resulted in signing of the Accords for which he was awarded a peace Nobel prize in 1994.
During his congress address that spanned for three hours, Abbas also reminded that Israel was not in effect recognized as Jewish nation-state by the UN.
"If Israel goes to the UN and is recognized as a 'Jewish national republic of Israel,' then they will have international recognition," he said.
Although Palestine formally recognized the state of Israel and its right to exist under the terms of 1993 Oslo Accords that were supposed to bring an end to the years of Israeli-Arab violence and lead to "comprehensive peace settlement", it opposes the notion of Israel as a national Jewish state, which, Abbas argues, will pave the way for the discrimination of Israeli Arabs. Being one of the Accords' vocal proponents, Abbas took an active part in its drawing up and personally served as the signatory for Palestine.
However, in September last year Abbas hinted that Palestine might walk out from the Accords while blaming Israel of occupying its territory.
"We cannot continue to be bound by these signed agreements with Israel and Israel must assume fully its responsibilities of an occupying power", he said addressing the UN General Assembly, calling for the review of the agreements.
READ MORE: Bill legalizing Jewish settler homes on private Palestinian land gets initial parliamentary approval
Contrary to Steinitz's claims of Abbas rejecting Israel's right to exist, the Palestinian leader has been known as a staunch supporter of the two-state solution and repeatedly called on reviving stalled peace talks with third party assistance. In November, Palestinian officials welcomed the initiative by France to serve as a mediator and staged a conference in Paris.
France's Middle East envoy Pierre Vimont, who promoted the initiative, urged Israel to accept the proposal "so that everyone, at last, would think that the commitment by the Israeli government to a two-state solution is genuine, sincere and deeply based and grounded in strong convictions."
However, Israel called the offer "a diversion" insisting on direct negotiations, the possibility of which for long has been rejected by Palestinian officials that demanded Israel stop its rampant settlement activity first.
You can share this story on social media: