Netanyahu rejects France's Middle East peace conference, wants direct talks with Abbas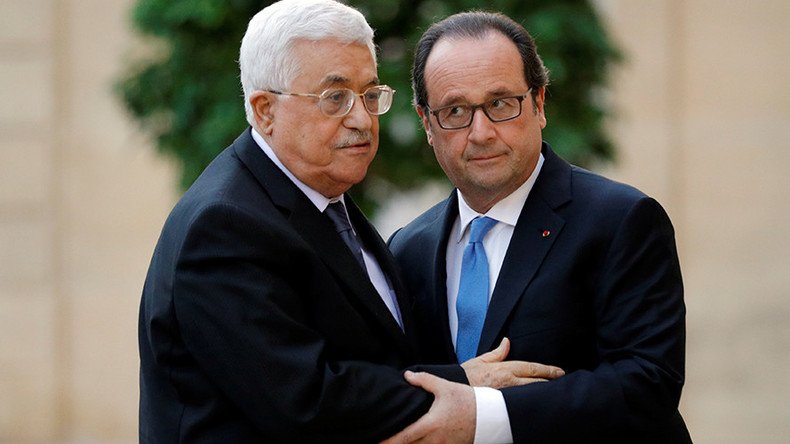 A French peace initiative aimed at allaying Israeli/Palestinian tensions has effectively stalled after Israeli PM Benjamin Netanyahu refused to meet France's Pierre Vimont and participate in the proposed Paris conference.
Palestinian officials meanwhile welcomed the French efforts.
French envoy Pierre Vimont met with Israeli and Palestinian officials over the weekend to promote the idea of a Paris-based peace conference, aimed at reviving the reconciliation process. The Paris gathering was supposed to be held "before the end of the year."
"If the Israeli government would decide to come to such a conference, it would be a perfect arena so that everyone, at last, would think that the commitment by the Israeli government to a two-state solution is genuine, sincere and deeply based and grounded in strong convictions," Vimont told an Israeli audience at the Institute for National Strategic Studies (INSS) in Tel Aviv on Sunday.
READ MORE: UN rights envoy slams Israel for imposing 'epic' poverty on Palestinians

The envoy stated that "the time is not right for direct talks," implying that the talks would be multilateral. According to Vimont, the French plan was all about helping Israel and Palestine return to negotiations and not about imposing some concrete peace plan.
Previously, both sides of the conflict expressed readiness to revive the bilateral peace talks, without making the issue international.
The envoy's remarks sparked very different reactions from Palestinian and Israeli officials.
The Palestine Liberation Organization Secretary-General Saeb Erekat welcomed the proposition, urging France to not let Israel "sabotage" the proposed conference.
"Israel is a state that does not only refuse to attend international conferences, but refuses to recognize Palestine, to implement signed agreements, UN resolutions or simply to abide by its obligations under international law. Israel wants only to maintain the status quo and to continue with its settlement policies and land grabs," The Jerusalem Post quoted Erekat as saying.
According to Erekat, France would issue invitations to the conference in December.
"We have encouraged France to go ahead with its initiative and supported its efforts to have a multilateral conference before the end of the year," Erekat said after meeting with the French envoy in the West Bank city of Ramallah.
Palestinian leaders went even further, and effectively proposed holding the conference on Israeli-Palestinian reconciliation without Israeli participation at all.
"We are in favor of holding the conference and we welcome it regardless of whether Israel participates or not," said Nabil Abu Rdainah, a spokesman for Palestinian President Mahmoud Abbas, reported Reuters.
Israel has long maintained that only direct negotiations without any third parties could lead to reconciliation. Top Israeli officials called French efforts "a diversion," as a multilateral conference would only give Palestinians a platform for postponing the direct talks indefinitely. The French invitation to the planned conference was officially rejected beforehand on Monday.
Israel's PM Benjamin Netanyahu called for immediate direct talks with Palestinian President Abbas.
"The quest for peace is difficult but we remain committed to it," Netanyahu said on Monday, while meeting his Fijian counterpart Frank Bainimarama. "And you know, Mr. Prime Minister, every time there is a foreign leader here I always say: Look, I'll be happy to begin peace negotiations without any conditions of course but direct negotiations with President Abbas."
"Any other initiative, including this one [French], will only distance peace from the region," Netanyahu's office said, urging France "not to promote a conference or a process that is contrary to [our] official position."
Palestinian officials have repeatedly rejected such calls for direct talks, stating that Israel must stop all settlement activities first and then propose talks. Meanwhile, the construction of illegal settlements on occupied Palestinian lands continues as Israeli Defense Forces regularly conduct anti-terrorist operations in the Gaza strip. On Palestine's part there has been a surge in stabbing attacks by Arabs on Israelis and occasional missile launches into Israel's territory.
Israeli-Palestinian relations are still tense and the attempted French initiative will likely not contribute to them in any positive way. The Israeli-Palestinian peace talks have been at a standstill for two years since US efforts failed. The sides stopped the consultations after Palestinian President Mahmoud Abbas forged an unexpected pact with Hamas, which Israel considers a terrorist organization.
Since then, besides France, Russia has also offered to host the peace talks, should Israel and Palestine manage to continue the reconciliation. According to Russian diplomats, Moscow continues consultations with both sides in the Israeli-Palestine conflict, without an unnecessary rush given its status as a "sensitive matter."
You can share this story on social media: