1,000s of Spaniards march against corporations & austerity (VIDEO)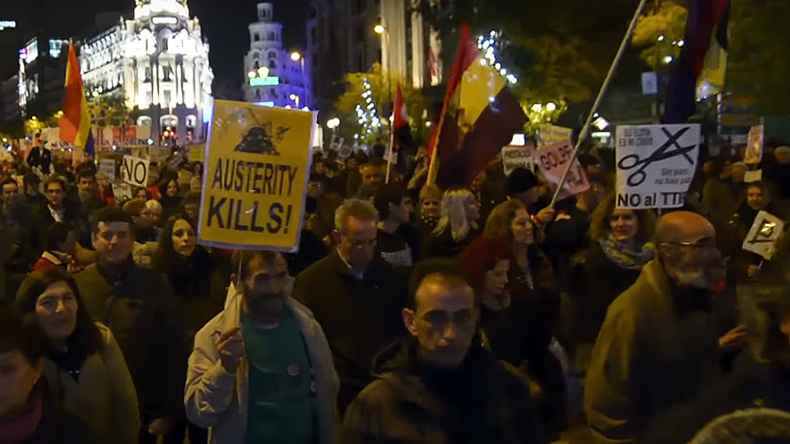 Thousands of people took to the streets of Madrid on Saturday in the latest Dignity March – a protest against the government's austerity policies.
Participants in Saturday evening's demonstration walked about two kilometers from Plaza de España to Plaza de Neptuno carrying banners demanding that the government put an end to budget cuts and act independently from Brussels. They also accused their government of protecting the interests of big multinational corporations at the expense of the Spanish people.
Organizers from the so-called 22M movement estimated that more than 8,000 people joined the rally, the EFE news agency reported.
READ MORE: Ban memes? Spanish Twitter alarmed with PM party's plan to curb online 'defaming' images
The 22M movement, whose name stands for March 22, the date of the first Dignity March in 2014, grew out of public disaffection with the rightist government of Prime Minister Mariano Rajoy, who came to power in 2011 and adopted a number of austerity measures.
In the midst of an economic crisis and a series of demonstrations against the government's policies, his cabinet pushed through the so-called 'gag law' in 2015, which imposes heavy fines for violating rules during public protests, cracks down on the use of social media to organize them, and introduced new punishments for disobeying police while participating.
The ruling People's Party has since lost its majority in the parliament and needs support of the opposition Socialist Party to enact policies.
Saturday's protest was held despite a government pledge to raise the country's minimum wage by eight percent next year. The wage is to set to rise from €764.4 to €825.5 per month.
You can share this story on social media: