200,000 Muslims rally in Indonesia to protest against 'blaspheming' Christian governor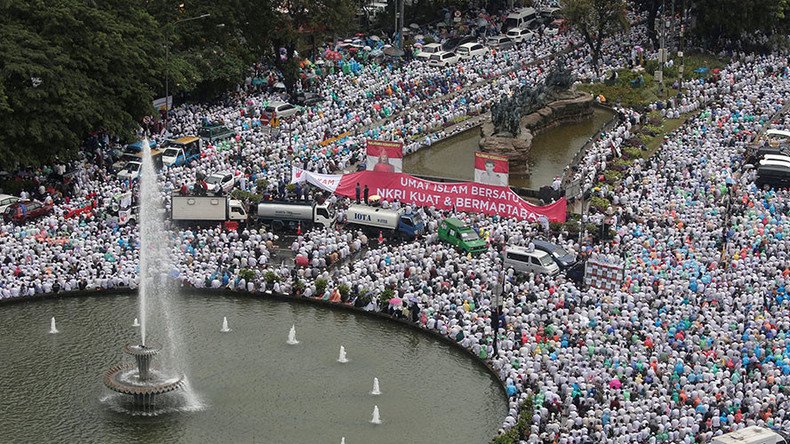 Over 200,000 Indonesian Muslims have staged a protest against the Christian governor of Jakarta, demanding his arrest for alleged blasphemy.
The demonstration was even bigger than the last one held earlier in November, which attracted around 100,000 Muslims. The crowd, clad in traditional white robes and skullcaps, chanted and prayed in unison at the National Monument on Friday.
"Let's defend our religion," Rizieq Shihab, leader of Islamic Defenders' Front (FPI) – a hardline Islamist group – said at the rally in a speech quoted by AFP. "Stop all forms of religious blasphemy and put all violators on trial."
The demonstration, which was organized by the FPI vigilante group, called for the arrest of Basuki Tjahaja Purnama, also known as Ahok, the ethnic Chinese Christian governor of Jakarta. Ahok is accused of disrespecting the Koran, a charge that could lead to five years in prison.
"I've been called to defend Islam," Lisnawati Djohar of West Sumatra told AFP. "As a Muslim, I feel guilty if I refuse a demand to defend my religion. I believe Ahok insulted the holy Quran and it's hurt us."
Indonesian President and Ahok ally, Joko "Jokowi" Widodo, made an appearance at the rally, unexpectedly appearing at the National Monument to pray with demonstrators before urging them to peacefully go home. This was followed by cheers from the crowd, and some proceeded to quietly make their way out.
Security was heightened for the rally on Friday. The previous one, held on November 4, led to clashes in which 100 people were wounded and one was killed. Police staged drills and brought in water cannons and riot vehicles in preparation for the protest. Friday's demonstration, however, seemed to be peaceful.
READ MORE: Christian governor of Jakarta to face trial over Islam 'insult' allegations

The protests against Basuki Tjahaja Purnama stem from his use of a verse from the Koran in a speech about his political opponents, who he accused of using the passage to justify not voting for him. Purnama has since apologized for the remark, saying he intended to criticize his opponents and not the Koran itself. The scandal has gripped Indonesia, the world's most populous Muslim-majority country, which has recently seen rising Islamist sentiments.
You can share this story on social media: