France election: Fillon set to beat Le Pen as poll shows 66% support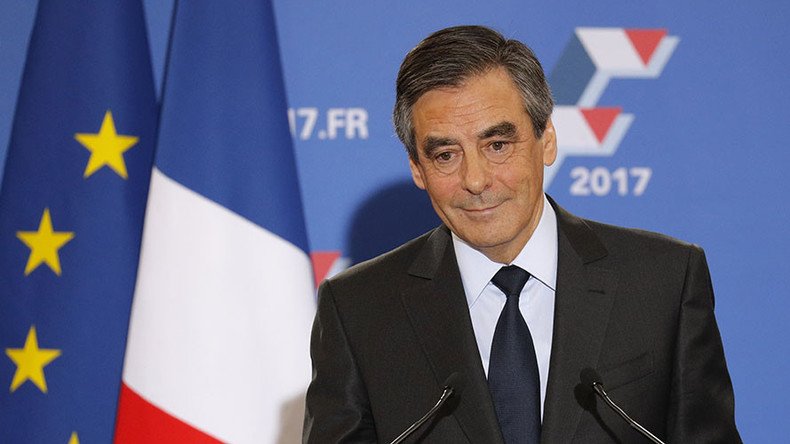 Francois Fillon looks likely to triumph over Marine Le Pen in the French presidential election runoff in May, with 66 percent of vote shown as going to the center-right candidate, the latest opinion poll by the Elabe Institute shows.
The survey indicated that Fillon (Les Republicains) and Le Pen (Front National) will take the lead after the first round of voting in April, and will get to the runoff. In the later ballot, scheduled for May, Fillon looks very likely to get 66 percent of the vote, while Le Pen is to receive 34 percent.
The survey shows that third place would go to the independent candidate Emmanuel Macron, economy minister in current President Francois Hollande's government and an investment banker, while the far-left Jean-Luc Melenchon comes in fourth.
The poll was carried out online on September 28-29, and involved 941 voters as a representative group.
Hollande's ratings have been going steadily down, with a drop from 17 percent in August to 15 percent in September, and continued sliding to the lowest figure in the history of the French presidency – 4 percent – according to polls by Ipsos, Elabe for Radio Classique, and Les Echos daily.
However, despite the downfall in the public eye, several days ago Hollande signaled that he was preparing to seek re-election. He apparently believes he can unite the left against Fillon.
"[The president] knows the situation is complicated for him but he's also extraordinarily self-confident," a person with knowledge of the situation told the Financial Times. "First, we were told Nicolas Sarkozy was the easiest candidate to defeat; then Alain Juppé was beatable because he was a 'bad campaigner'. Now we're told Fillon is the perfect candidate for the left."
Fillon, a former prime minister, has largely been regarded as the presidential race's underdog, being branded by ex-President Sarkozy as "an employee." That was until a few weeks ago, when he convincingly beat both his former boss and the frontrunner Juppe.
READ MORE: EU may fall apart due to failed neo-liberal policies – Noam Chomsky to RT
The 62-year-old Fillon pledges to slash public spending, raise the retirement age, extend the working week and reduce taxes. He also promised to normalize relations with Russia, calling the current attitude of the French government "absurd."
The French media then instantly branded Fillon as 'Putin's friend', which is easily explained, experts say.
The French media mainly supports Paris' alliance with the US and French-German relations, "yet in reality there is a large part of public opinion in France that not often speak out openly, but know that there can be no balance in Europe without a renewed and consistent alliance with Russia," writer and political analyst Eric Verhaeghe told RT.
You can share this story on social media: