Welcome to the Fillon-Le Pen cage match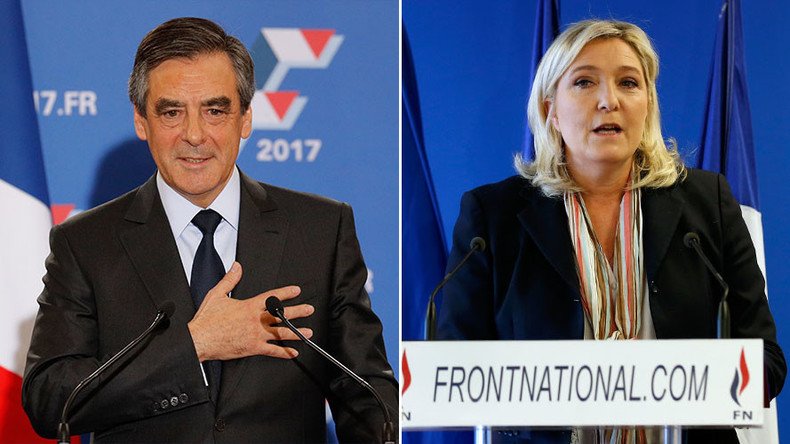 He came (from behind); he saw; he won. Francois Fillon will be the candidate of the French Right in the 2017 presidential elections, and he stands a very good chance of winning, in the second round, against Front National (FN) leader Marine Le Pen.
Fillon is an ultra-traditionalist, family values, "Christian roots of France" kind of guy. In American terms, he would be a "French nationalist" – without the derogatory subtexts. His mantra revolves around the historic strength of French national identity (from Jeanne D'Arc to Voltaire), the basis of national sovereignty, which should be re-emphasized again and again.
Add to the agenda a very hard tack on immigration and on a vague, indistinct "Islam" that's not conceptualized, as stressing the stark difference between Islam as a religion of peace and Salafi-jihadism as an offshoot of Wahhabism. The French establishment simply cannot afford to antagonize influential client-states/investors such as Saudi Arabia and Qatar. The most specific Fillon gets is that "the Islamic religion accept what all the others have accepted in the past... that radicalism and provocation have no place here."
Once again, nobody – polls included – saw race car driving enthusiast Fillon coming from behind, like a political Lewis Hamilton, and reduce to dust his main competitors on the Right, former Prime Minister Alain Juppe and, most of all, former King Sarko The First, the Conqueror of Libya, a.k.a. Nicolas Sarkozy.
As it stands, roughly less than six months before the presidential elections, Fillon is now being lauded by the Right as the perfect vehicle to smash Marine Le Pen's burning ambition. A solid family values, provincial, Catholic straight from central casting is perfect to "steal" a large constituency – the elderly – away from the FN.
Photogenic Marion Marechal Le Pen, a FN member of Parliament and – crucially - Marine Le Pen's niece, confirmed on the record that Fillon is "the most dangerous candidate to the FN". His centrist appeal is unmistakable. And he's definitely not a populist; more like a David Cameron with pommes frites than a gammon steak Nigel Farage.
It's the economy, stupid
Bill Clinton's mantra lives; once again, the battle will be in the economic front. Fillon's plan is a merciless neoliberal shock designed to "open up" the notoriously centralized French economy, centered on slashing at least 500,000 public sector jobs, cut off the dizzying maze of bureaucratic regulations, and drastically reduce public spending, to an astonishing 0 percent budget deficit by 2022.
This all relies on a single-minded concept: to free businesses from red tape ("I'll do everything for entrepreneurs!") so more jobs will be created (French unemployment rate remains stuck at around 10 percent) Expect major backlash; there will be if not blood, at least a lot of pubic sector anger exploding in the barricades if Fillon gets his way.
Paris of course is not France; it's the provinces that will decide the outcome next spring. But even in Paris there's a groundswell among urban progressives that to bar the highway for the FN may be OK, but Fillon's agenda may be too reactionary.
That's the feeling one gets among this very French constituency - mixed "public-private" couples - where one partner works in the public sector and the other in private initiative. In a nation still under Colbert's rules, it's absolute anathema to "attack" the public sector.
Marine Le Pen, for her part, is an extremely savvy player appealing to the vast, downtrodden urban/rural proletariat – the provincial counterparts of Hillary's "deplorables" – while appropriating herself from classic Left mantras; she is absolutely anti-globalization and thus protectionist. And she wants to protect the French public sector.
LePenomics to a large extent does mirror Trumponomics. No wonder the FN is already branding Fillon as a (failed) neoliberal globalist – not to mention as yet one more old symbol of the French ruling class.
Talk to Russia, monsieur
Then there's the ultimate issue that seems to unite cross-devastated neoliberal Europe: the Russia question. Whatever his repeated pleas of forging a sound relationship with Russia – both Fillon and Putin were Prime Ministers at the same time – Fillon is essentially a neoliberal, pro-EU, pro-NATO, pro-Bilderberg consensus establishment figure. That does not mean he cannot do decent diplomacy.
Fillon laid out his Russian angle quite clearly at last Thursday's debate against Juppe, before Sunday's run-off. So take this as the entire Fillon foreign policy in one minute:
"France must defend its interests. We are allies of the United States. The policy conducted by [President] Hollande regarding Russia is absurd, and leads Russia to isolation. It's a dangerous country if we treat it as we do for the past five years. We have to build the confidence level with them. The real danger for Europe, economically, is the Asian continent (…) Of course I don't approve of the annexation of Crimea, I want the question to be treated according to international law. The policy we have implemented in Syria for the past four years has failed. We must find new ways to act; we must engage the Russians in a discussion and talk to Iran, and we must accept the idea of a temporary agreement."
Incidentally, that's not too dissimilar to the FN's policy.
As it stands, everything points to a Fillon-Marine cage match next spring. President Francois Hollande would be barely able to beat a frog (literally) if he runs for a second term. Even lackluster current Prime Minister Manuel Valls would be more popular.
Hollande's former protege and Economy minister, Emmanuel Macron, has also thrown his hat in the ring, running most probably as a centrist independent. Paraphrasing Texas: all hat, no action. Then there's the Far-Left anti-globalist Jean-Luc Melanchon, without the necessary political apparatus to propel him upwards.
All eyes are now on what Le Pen will be able to pull out of her bag of magic tricks. The FN has been busy positioning itself as "Neither Left nor Right;" cynics will marvel at the similarity with Ayatollah Khomeini's stance ("Neither East nor West") when he ascended to power in the late 1970s.
Le Pen has performed quite the trick of "normalizing" the FN to the point where she can seriously have a shot at the presidency. Now she must choose between "it's the economy, stupid" or stressing the social/religious/identity war to conquer all those precious votes in silent, provincial, "deep" France.
The statements, views and opinions expressed in this column are solely those of the author and do not necessarily represent those of RT.
You can share this story on social media: