Kiev seeks joint patrols with NATO in Black Sea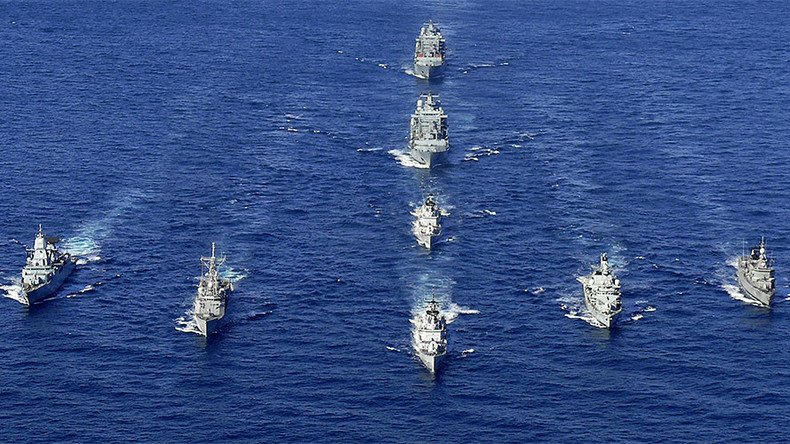 Ukraine and NATO have been discussing joint patrols in the Black Sea, a top Ukrainian security official has said, citing Russia's "behavior in the region" as the reason behind the move.
"We are ready and we are discussing this option [of joint patrols with NATO]," said the secretary of Ukraine's National Security and Defense Council (NSDC), Aleksandr Turchynov.
"The thing is that the Russian Armed Forces are dominating the Black Sea following the occupation of Crimea. There is no real alternative to them at the moment; there is no strong NATO fleet in the Black Sea. It was not necessary in the past, but now there is such necessity," Turchynov told Interfax-Ukraine on Wednesday.
The Ukrainian official recounted Russia's "advances" in the Baltic region, referring to its strengthening of defenses in Kaliningrad and the Mediterranean, and noting Russian bases in Syria.
"All this requires an appropriate response, primarily, on the part of NATO," Turchynov said, adding that "NATO should be actively present in the Black Sea."
"Ukraine is prepared to render [NATO] full support, from offering our ports as hosts to starting joint [activities] of our Navy and NATO units… We do not have many [ships] but we are ready to participate in joint projects, such as joint patrols. Both our allies and we are interested in stopping the spread of Russia's aggression," he said.
READ MORE: Six NATO nations eager to increase Black Sea presence - Stoltenberg

NATO's official position has long been that military activity in Eastern Europe was a defensive response to alleged Russian "aggression" in Ukraine. NATO said Russia was responsible for "annexing" Crimea from Ukraine, although the region voted to join the Russian Federation in March 2014 in a referendum, following the coup that overthrew Ukraine's elected government.
Ever since, NATO has been increasingly concerned about the Black Sea turning into a "Russian lake." NATO warships, including missile cruisers from the US and other allied nations, have been patrolling the area on a rotational basis.
In September this year, NATO Secretary General Jens Stoltenberg said the bloc was ready to further increase its presence in the area, as a gesture of support to its Eastern European members.
According to Stoltenberg, several member states "indicated their willingness to contribute to our presence in the Black Sea region on land, at sea and in the air, including Canada, Germany, the Netherlands, Poland, Turkey and the US… Other allies are also looking into how they can contribute."

NATO is also currently conducting military drills near the Russian border. The 'Iron Sword' exercises, which started on November 20, involve 4,000 troops from 11 NATO countries. The drills are taking place in Lithuania, Russia's neighbor and the largest Baltic nation.
Moscow has not let NATO activity go unanswered. In August this year, Russia deployed S-400 missile defense systems to Crimea, while ballistic Iskander missiles were deployed in the Kaliningrad exclave after an American ABM (anti-ballistic missile) system was stationed in two Eastern European NATO countries – Romania and Poland.
Kremlin spokesman Dmitry Peskov recently called the Western alliance an "aggressive bloc" and said that Russia has the right to protect itself against NATO's eastward expansion.
"Russia is doing all that is necessary to protect itself against the backdrop of NATO's expansion toward its borders. NATO is indeed an aggressive bloc," Peskov said.
"Russia has all the sovereign rights to take the necessary measures across all the territory of the Russian Federation," the spokesman added.
You can share this story on social media: