NATO force on Russian border 'not a threat in any way' – State Department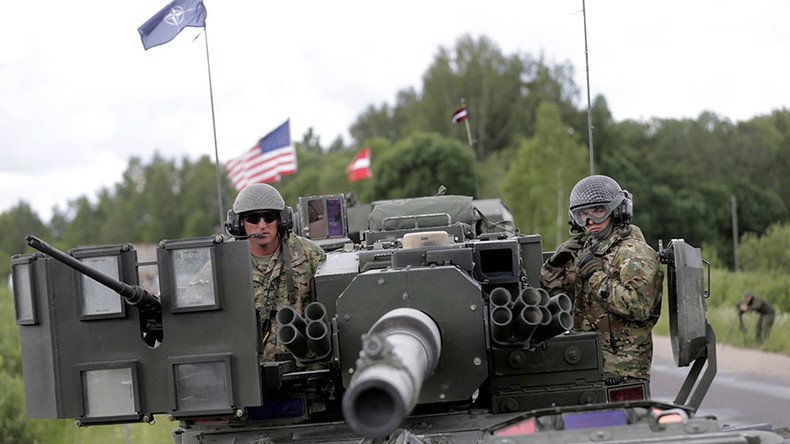 Washington has expressed discomfort over Russia's deployment of Iskander missiles and air defenses in Kaliningrad, saying that NATO is a "defensive alliance"and is not threatening Moscow. Meanwhile, more tanks and troops are being deployed to the Baltics.
"NATO is a defensive alliance, it's always been a defensive alliance, it will remain a defensive alliance," State Department spokesman John Kirby told reporters on Tuesday. "There is no reason why Russia should view NATO in any way, shape or form as a threat."
On Sunday, NATO kicked off "Iron Sword 2016" exercises in Lithuania, the largest such maneuvers to date, involving 4,000 troops from across the alliance. The exercises in 2015 and 2014 involved 2,500 and 2,000 troops, respectively.
"There is no reason for anybody in Russia to feel threatened by NATO's military activities or preparations." Kirby continued. "In terms of recent months and years, there would have been no reason for NATO to advance and commit additional capabilities on the European continent – including American capabilities – had it not been for Russia's move in Ukraine."
This is in line with NATO's official position that military activities in eastern Europe were a defensive response to alleged Russian "aggression" in Ukraine. NATO said Russia was responsible for "annexing" Crimea from Ukraine. The region voted to join the Russian Federation in March 2014, following the coup that overthrew Ukraine's elected government.
Moscow responded to the recent NATO build-up by announcing it would deploy S-400 air defense systems and "Iskander" missile launchers to Kaliningrad Oblast, a Russian exclave containing almost one million inhabitants sandwiched between Poland and Lithuania.
"Russia is doing all that is necessary to protect itself amid NATO's expansion toward its borders," Dmitry Peskov, spokesman for President Vladimir Putin, told reporters at the Kremlin on Tuesday. "The alliance is a truly aggressive bloc, so Russia does what it has to do. It has every sovereign right to take necessary measures throughout the territory of the Russian Federation."
NATO's military drill on Russia's border comes amid preparations to permanently station 4,000 alliance troops in Poland, Lithuania, Estonia and Latvia, a decision made at the NATO summit in Warsaw in July.
A quarter of the force would be composed of US troops currently based in Germany, who would relocate to Poland. A 1,000-strong German-led force equipped with tanks would be deployed in Lithuania in February for the first time since WWII. The remaining 2,000 British and Canadian troops would be stationed in Estonia and Latvia.
READ MORE: Germany to send modern tanks to Russian border – Defense Ministry

NATO has accused Russia of "aggressive military posturing" over reports that missiles would be deployed in Kaliningrad, while on Monday Kirby called for Moscow to "refrain from words or deeds that are inconsistent with the goal of promoting security and stability."
Established in April 1949 – six years before the Warsaw Treaty Organization – NATO ensured a permanent US presence in western Europe during the Cold War. After the dissolution of both the WTO and the Soviet Union, NATO expanded both its boundaries and its mission. On March 12, 1999, the alliance admitted the Czech Republic, Poland and Hungary. Twelve days later, NATO attacked Yugoslavia. After a 78-day bombing campaign, alliance troops were allowed occupy the Serbian province of Kosovo as "peacekeepers."
Bulgaria, Romania and the Baltic states joined the alliance in March 2004, putting NATO on the shores of the Black Sea and on the western border of the Russian Federation. In March 2011, NATO launched an intervention in Libya, aiding the rebels that overthrew the government of Colonel Muammar Gaddafi.
You can share this story on social media: