Japan scrambles jets as Chinese warplanes fly near Okinawa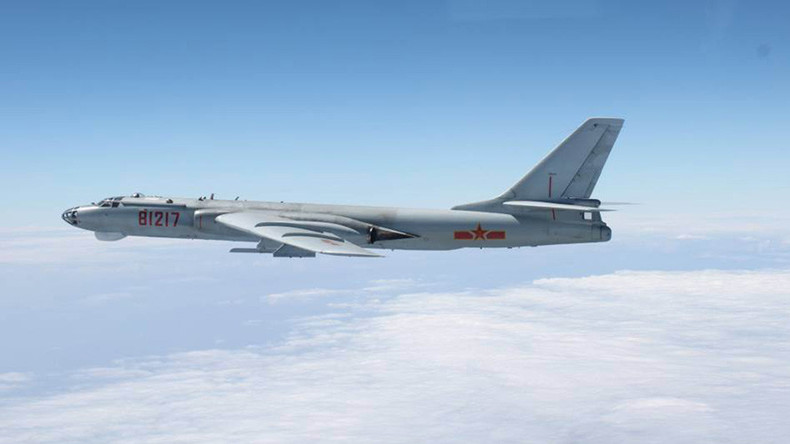 The Chinese military has conducted air force drills in the western Pacific close to Beijing's regional rivals Japan and Taiwan on Friday and Saturday. The Japanese Air Force scrambled fighter jets to shadow the Chinese planes.
On Friday, Chinese military planes flew through the Bashi Channel that separates Taiwan and the Philippines. Later on Saturday, the planes passed through the Miyako Strait near Japan's Okinawa island, which hosts a large portion of the US military troops stationed in the country.
The Chinese Air Force said the annual drills went as scheduled and "are not aimed at any specific country, region or target."
"Organizing the air corps to carry out exercises far at sea is a normal thing to do for the air forces of countries which border the ocean," the Chinese military statement said.
Beijing didn't specify the types and missions of the planes involved in the drill. According to the Japanese military, the exercise near Okinawa involved two Su-30 fighters, two H-6 bombers, and two signal intelligence aircraft.
The two fighters entered the passageway from the direction of the South China Sea, met the bombers and surveillance aircraft returning from the Philippine Sea, and convoyed them back to China, Tokyo reported.
A similar exercise was conducted by China in September. Beijing announced at the time that it would organize regular military flights past what China calls the first island chain – which lies between mainland China and the western Pacific, and includes Japan's Ryukyu Islands and the self-governed Chinese island of Taiwan.
China is asserting its influence in the region by investing into military assets and projecting power towards its neighbors. In 2013, it declared an air defense identification zone over the East China Sea, drawing rebuke from nations opposing its ambitions.
You can share this story on social media: