Stockholm mosque desecrated by swastikas, anti-Muslim slogans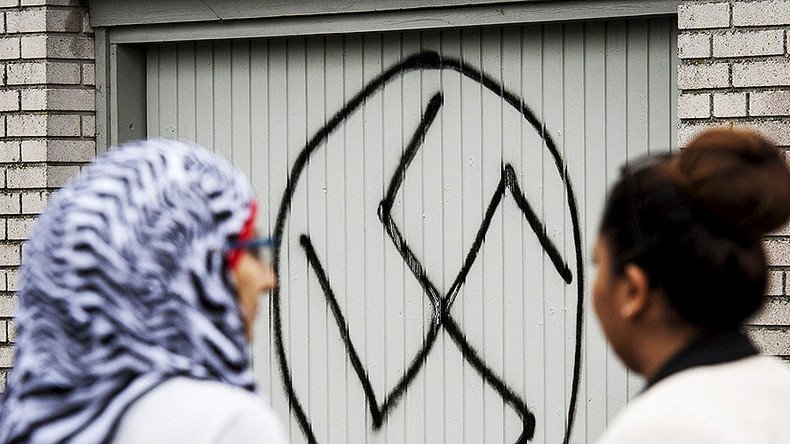 Unidentified hooligans made their way into a mosque in Stockholm, Sweden on Saturday morning, throwing fire crackers and painting swastikas and anti-Muslim slogans on the walls.
The incident occurred shortly after morning prayers in a mosque in the Bredäng district of Stockholm.
"One or more" perpetrators painted a swastika and wrote "kill Muslims" on the walls before fleeing the scene, SVT reported.
Firecrackers were used, leaving "huge amounts of smoke in the mosque," Orhan Karan, a Muslim community representative, said.
Most worshippers left the mosque before the attack, with only one person remaining.
He was described as being "not injured physically, but very frightened" by what he witnessed.
Swedish police are investigating the incident as vandalism and a hate crime. Arrests are yet to be made.
"We must rely on the available witness statements, but so far it doesn't seem to be anyone who has seen anything," police spokesman Sven-Erik Olsson said.
READ MORE: Islamist 'morality police' oppressing women's freedoms in Swedish suburbs – report
Mustafa Tumturk, who was among the founders of the mosque in 1985, said Saturday's incident "is not something one would expect."
"It's hard to understand what is going on in society, both internationally and in our own country. I don't recognize Sweden anymore," Tumturk told TT news agency, as cited by The Local.
Sweden has seen a rise in attacks against mosques and refugee centers as the country took in a record 245,000 refugees in 2014 and 2015.
Bredäng mosque received anonymous threats in October, with warnings that the building would be burned.
READ MORe: Jihadi rehab: Swedish city plans free driver's license, housing & tax perks for returning fighters
Muslim activists urged local authorities to install security cameras to monitor the mosque, but the request was denied.
You can share this story on social media: