HIV-awareness posters showing gay couples spark controversy in France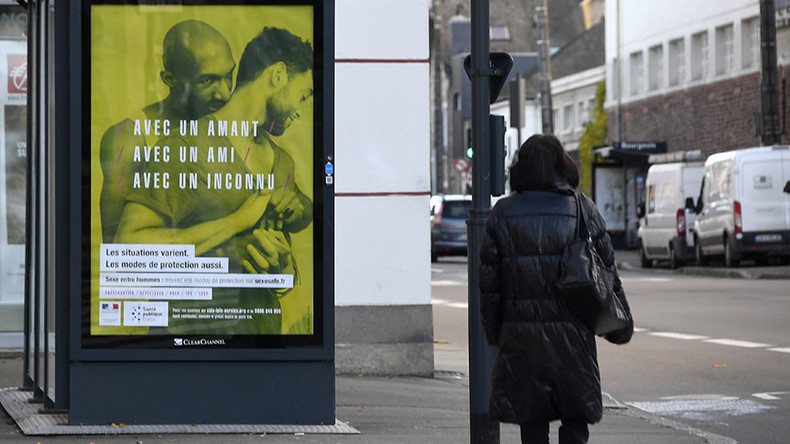 Controversy has erupted in France after posters for an HIV-awareness campaign showed couples of men embracing. Several local mayors have had the posters removed, leading to accusations of homophobia.
The posters, which were put up in 130 towns across France, showed two men kissing and embracing with the words "with a lover, a friend, with a stranger: the situations vary, the protection modes too." The posters are part of a campaign to raise awareness about the risks of unsafe sex while promoting condom use. It advises men to visit the website sexosafe.fr for more information on screening, vaccination and other means of protection.
READ MORE: Church should apologize to gays & women for ill treatment – Pope Francis

But in a dozen towns the posters have sparked complaints, leading conservative mayors to order them to be taken down.
The mayors justified their position by saying they were protecting the innocence of children. Bruno Beschizza, the mayor of Aulnay-sous-Bois near Paris, had the images covered with a yellow notice saying "Protect Our Children."
"When you put subliminal messages of a one-night stand, without any mention of love, onto a bus shelter without context, I imagine a child of five years with little understanding will have some confusion," Beschizza told BFM TV.
Another mayor, Christophe Bechu of Angers in western France, had the posters taken down.
READ MORE: Thousands march in protest against same sex marriage in Paris (PHOTOS, VIDEO)

"This campaign, with the slogans it chose and the messages it suggested, aroused great excitement with many Angevin," he wrote in a letter demanding the posters' removal, according to BFM. "Deliberately shocking, this poster campaign is desseminated in the vicinity of schools, at bus shelters, and delivers a message that young children are unable to understand."
But liberal and left-wing figures struck back, with Socialist MP Daniel Goldberg tweeting "a poster with a woman kissing a man would never have been removed. This has a name: homophobia."
France's Health Minister Marisol Touraine joined in the battle, encouraging her followers to share images of the same-sex couples with the hashtag #Loveislove.
Touraine then announced she would be taking the towns to court.
"For public health and against homophobia, I will seek justice for the censorship of the HIV prevention campaign by some mayors," she wrote on Twitter.
Although France is an officially secular country, there is a lot of opposition to homosexuality amongst (frequently religious) conservatives. In October, thousands marched through the streets of Paris to voice their opposition to same sex marriage, which was legalized in 2013.