Thousands march in protest against same sex marriage in Paris (PHOTOS, VIDEO)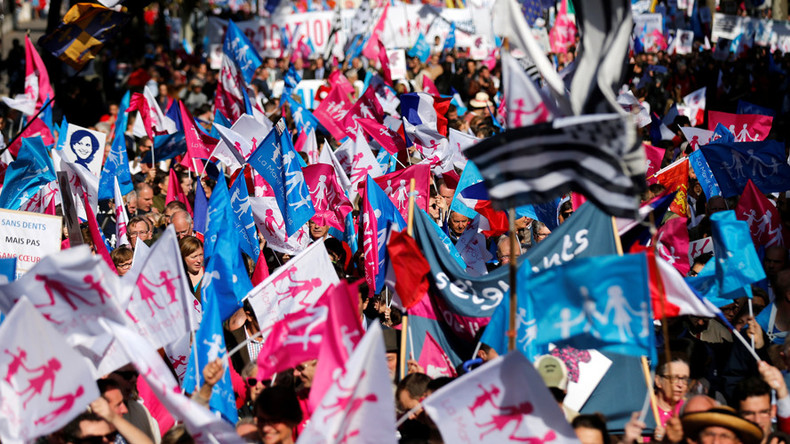 Thousands of demonstrators took to the streets of Paris to protest against same sex marriage, which was legalized in France in 2013.
The protest was organized by ManifpourTous, or 'Demonstration for All'. French presidential elections are due to be held in May and the group, formed in 2012, is seeking a repeal of the 2013 law.
Protesters marched through the Place de la Concorde towards the Eiffel Tower, holding slogans such as "A father and a mother – it's hereditary" and "In 2017, I will vote for the family."
"I am against gay marriage and against the crappy leaders who oppose the power of the people," said one protester, retired 72-year-old engineer Michel Delaune as quoted by France24.
As well as same sex marriage, protesters rallied against surrogate pregnancies, which would allow same sex couples to have children. Some held up signs saying, "women's wombs are not for sale." Although surrogacy was pushed for by proponents of the 2013 law, it was not included in the final bill because of fierce opposition from ManifpourTous.
ManifpourTous estimated that their march attracted around 200,000 protesters, though police gave a far lower turnout of 24,000. Several right-wing figures were in attendance, including Jean-Frederic Poisson, an MP who has been vocal in his opposition to same-sex marriage, and Marion Marechal-Le Pen, the niece of National Front leader Marine Le Pen. Le Pen herself was not present, telling BFM-TV she "does not feel compelled to pound the pavement", but nevertheless expressed sympathy for the protesters views and said that should she be elected president, the law would be reviewed.
The event was held under tight security, with authorities not wanting a repeat of the violence that marred a larger protest in April 2013, during which riot police faced off against youth hurling bottles and fireworks. Streets were sealed off and people were searched, with a total of thirteen arrests made including for drugs possession and offensive weapons.
Among those arrested were members of the Ukrainian feminist group Femen. Ten activists infiltrated the march and demonstrated topless, shouting "hatred is not a family value!" They were then set upon by members of the crowd before six of them were detained by the authorities. On Twitter, Femen claimed they were responding to a "reactionary wave" which has "spilled homophobia across France."
The 2013 law allowing 'marriage for all' was introduced by the then-Minister of Justice Christiane Taubira and was passed by parliament in April of that year, despite heavy opposition by conservatives. Despite the controversy, neither former President Nicolas Sarkozy nor his rival Alain Juppe, the leading nominees for the right-wing Republican presidential candidacy, have expressed an interest in repealing the law.
"I believe France has many other important issues to deal with such as security, terrorism and unemployment," Sarkozy said on the political talkshow Punchline, "rather than recreate conditions for another hysterical debate."