Philippines, US 'agree to reduce' military drills, number of US troops taking part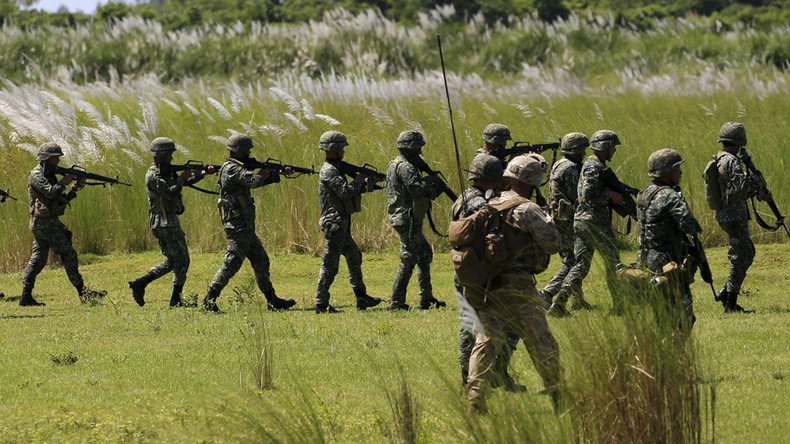 Manila and Washington have agreed to reduce the size and frequency of joint military exercises as well the number of US troops taking part, Reuters reported, citing a Philippines general involved in the talks.
The general, who spoke on condition of anonymity, said the Defense Ministry had instructed the military to curtail joint exercises – which should be "refocused on disaster" relief – and halt naval and amphibious landing drills.
"The two allies will focus more on humanitarian assistance and disaster response operations and other non-traditional military training and exercises," the general told Reuters on Tuesday, adding that the number of US troops would be "small."
In the past two years, some 5,000 US soldiers have taken part in joint drills in the Philippines.
The general said planned US deployments under the Enhanced Defense Cooperation Agreement (EDCA) would continue, however.
"But, that too, we will see a scaling down on the number of aircraft and troops rotated in our bases," the Filipino general noted.
The US-Philippines drills are part of a 2014 defense agreement with Washington that allows US troops, warships and planes to be stationed in the Philippines, a former US colony.
Meanwhile, a joint statement, issued by military officials from Manila and Washington, highlighted "close cooperation" between the two countries and did not mention reduced level of engagement.
"We look forward to continued, close cooperation in areas central to both our national and security interests including humanitarian assistance and disaster relief, counterterrorism, cyber security, and maritime security," Brigadier General Restituto Padilla said, reading the statement at Camp General Emilio Aguinaldo in Quezon City on Tuesday.

"The successful completion of the MDB-SEB ensures continued, robust relations between the US and Philippine militaries," he added.
A spokesman for the US Defense Department, Commander Gary Ross, said it had been agreed "to change some exercises," adding that additional partners would be invited "to enhance multilateral cooperation," Reuters reported.
Ross said the two sides had agreed "to continue implementing" the EDCA, however.
The Philippines has been America's key ally in the region for decades, but relations have soured over the last few months.

Earlier in November, the Philippines President Rodgrigo Duterte canceled the purchase of over 26,000 US rifles for the national police force after reports Washington would be halting the sale over concerns of human rights violations. Duterte slammed the reports, threatening that his government could go to Russia or China for the weapons.
"Look at these monkeys, the 26,000 firearms we wanted to buy, they don't want to sell. Son of a b****, we have many homemade guns here. These American fools," Duterte said during a TV speech, according to Reuters.
In September, he pledged to put an end to military drills with the US and reduce its presence in the Philippines.
"I am ready to not really break [US] ties but we will open alliances with China and... [Russian Prime Minister Dmitry] Medvedev," Duterte said, adding that he would open up the "other side of the ideological barrier," Reuters reported.
Last week the Filipino president met President Vladimir Putin for the first time at the APEC summit in Peru, praising his Russian counterpart's leadership skills, and accusing Washington of unleashing conflicts in many countries – Vietnam, Korea, Iraq, Afghanistan and elsewhere as part of its "destructive policies."
You can share this story on social media: