Western nations start wars they are scared to fight themselves – Duterte to Putin at APEC summit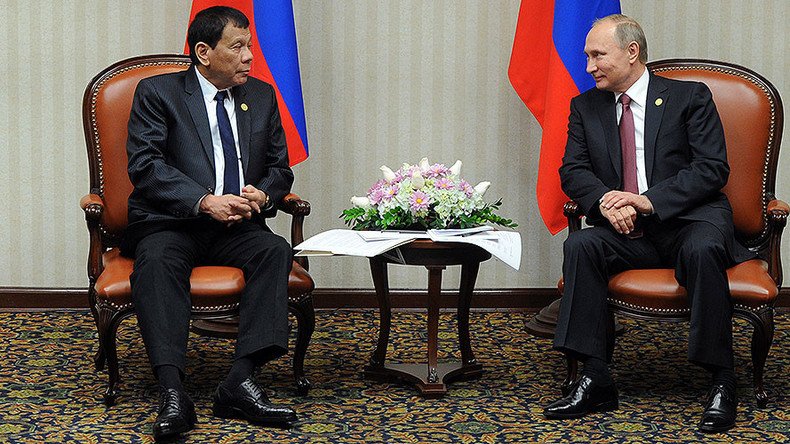 Philippines President Rodrigo Duterte has met Vladimir Putin for the first time at the APEC summit in Peru, praising his Russian counterpart's leadership skills and blaming the West for "bigotry," terrorizing smaller nations and warmongering.
The two leaders met in the Peruvian capital, Lima, on Saturday to discuss the development of Russia-Filipino relations.
Putin welcomed a chance to talk with Duterte, recalling that the two nations are celebrating 40 years of diplomatic ties.
"This time span is short in the terms of history, but we have been able to do a great deal for developing relations of comprehensive partnership and increased confidence," TASS cited the Russian leader as saying.
He also congratulated Duterte with his victory in the presidential election, which took place in the Philippines on May 9. Putin explained that it's a special date for all Russians, as the country marks victory over Nazi Germany in 1945.
Duterte said he was looking forward to meeting the Russian president "not only because you represent a great country, but because of your leadership skills."
According to the Philippines president, his country was always looking to become part of the Western world, "but now the Western nations are making attempts to attack small states and to intimidate them."
Such behavior is "the sign of bigotry" on the part of the US and its allies, he added.
"They begin wars which they are scared to fight themselves," Duterte said.
He blamed Washington for unleashing conflicts in many countries – Vietnam, Korea, Iraq, Afghanistan and elsewhere as part of its "destructive policies."
The Philippines leader is known for his harsh comments about outgoing US President Barack Obama, calling him "a son of a whore" and telling him to "go to hell."
At some point, he even announced the cancelation of military exercises between the Philippines and American forces, but softened his stance shortly afterward.
However, he welcomed Donald Trump's election to the White House, saying there was a lot of similarities between him and the new US president.
READ MORE: Karaoke diplomacy as Duterte and Malaysian PM get in tune (VIDEO)
"We both like to swear. One little thing, we curse right away, we're the same," Duterte said.
The Asia-Pacific Economic Cooperation (APEC) forum meeting is taking place in Peruvian capital, Lima, on November 19-20.
READ MORE: 'I'm just small molecule compared to Trump' – Duterte
APEC unites 21 Pacific Rim countries, including Russia, US, China, Japan, South Korea and the Philippines, promoting free trade in the Asia-Pacific region.
You can share this story on social media: