Philippines may pull out of 'useless' ICC, happy to join world order led by Russia, China – Duterte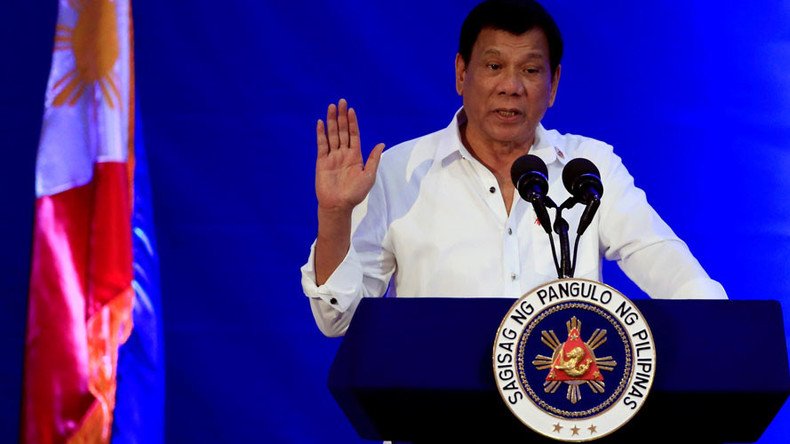 Philippines President Rodrigo Duterte says he might follow Russia's lead and withdraw his country from the International Criminal Court (ICC). He went on to slam Western countries which have criticized his controversial 'war on drugs'.
Speaking on Thursday ahead of his departure to Lima to attend the Asia-Pacific summit, Duterte slammed the ICC as "useless," following criticism by an ICC prosecutor last month that the Hague-based tribunal may have jurisdiction to prosecute those responsible for deaths related to the leader's crackdown on drugs.
Duterte said he is annoyed about the criticism he has received, and stressed that "nobody was listening" to his reasons for cracking down – which has led to the deaths of between 2,300 and 4,700 people, according to conflicting estimates.
"They are useless, those in the international criminal [court]. They [Russia] withdrew. I might follow. Why? Only the small ones like us are battered," Duterte said, referencing Russian President Vladimir Putin's decision to sign an executive order removing Moscow's signature from the founding treaty of the ICC on Wednesday.
Duterte is seeking a meeting with Putin in Lima this weekend, as he aims to pursue a foreign policy aimed at weaning his country's dependence on the US.
The Filipino president also speculated as to the reason for Moscow's decision to leave the ICC.
"What could be the reason? I really would not know," he said. "Maybe to protect what they are doing in Syria, the incessant bombing and the killing of civilians."
Russia has repeatedly denied allegations that it has bombed civilians and civilian targets in Syria, demanding convincing evidence be presented to substantiate the claims.
The outspoken Duterte went on to slam the United Nations for failing to prevent wars across the globe and criticized US foreign policy.
"The killings is endless [sic]," he said, referring to conflicts in the past and current. "The amount is splattering. That is our lesson. Just because it is America, it does not mean that it is good."
He said he would be happier if China and Russia were in charge.
"You know, if China and Russia would decide to create a new order, I will be the first to join," he said.
Duterte, who came to power in May on a promise to wipe out drugs and dealers in the country, has become well-known for his inflammatory statements. The leader called US President Barack Obama a "son of a b**ch/whore" in September, and branded UN Secretary-General Ban Ki-moon a "devil." He also gave the EU a "f**k you," telling the bloc it is only criticizing his war on drugs in "atonement" for its own sins. He apologized to the Jewish community in October, after saying he would be happy to slaughter drug addicts in the same way Hitler massacred Jews.
You can share this story on social media: