'Guilty feelings': EU aims to atone for own 'sins' by picking on Philippines drug war, Duterte says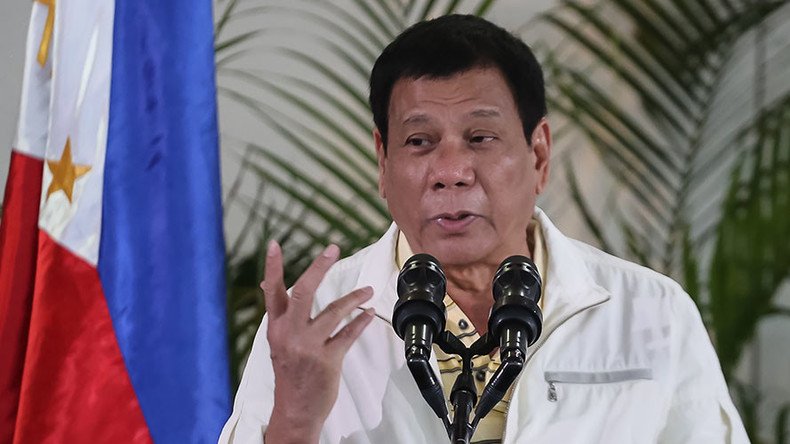 The sharp-tongued Filipino President Rodrigo Duterte has not shied away from using a four-letter word responding to the "hypocritical" EU blaming him for stoking up anti-drug violence. He accused EU states of mass killings in US-led campaigns in the Middle East.
Duterte, who has already acquired some fame for being no stranger to emotional statements and strong language, has told off the European Union for passing a resolution on extrajudicial killings of suspected drug dealers and users within the large-scale "war on drugs" in the Philippines.
"I have read the condemnation of the European Union. I'm telling them, 'F**k you. You're doing it in atonement for your sins," Duterte said, speaking in his home town of Davao City before local authorities on Tuesday, as cited by the Inquirer Global Nation.
"They are now strict because they have guilt feelings," he added, according to Philippine Star. Duterte pointed to the backing by EU member countries, in particular, the UK and France, for military campaigns in the Middle East, which have resulted in far more deaths.
"Who did I kill? Assuming that it's [the death toll] real. 1,700? You call that genocide? How many have they killed?" Duterte wondered.
"And the EU now have the gall to condemn it. I repeat it – f*** you," the seemingly enraged leader added, reinforcing his message with a middle finger he gave to the cheering audience.
The EU resolution on Philippines, adopted on September 15, calls on its authorities to launch "an immediate investigation into the extraordinarily high numbers" of people killed in the course of crackdown on drug crime, both by police and vigilante groups.
While the document does not name Duterte as directly responsible for killings of "over a thousand" alleged drug users and dealers committed by "unknown groups" and for more than a thousand of police killings of the same kind, it calls out the Philippines leader for publicly announcing that he "would not pursue law enforcement officers and citizens who killed drug dealers who resisted arrest."
The pledge to put an end to the drug crimes in Philippines was one of the Duterte campaign's main promises, which saw him promoted him to the office in May. As the numbers of the alleged extra-judicial killings kept soaring, Duterte has come under fire for abusing human rights by stoking up the anti-drug craze with his public statements. Not fan of lecturing on human rights, Duterte has since courted controversy for allegedly calling US President Barack Obama a "son of bitch," the remark which he then retracted as not "personal" after their bilateral meeting at the ASEAN summit in Laos was cancelled. Even the UN Secretary-General Ban Ki-moon got branded a "fool" for meddling in Filipino internal policies.
You can share this story on social media: