'I never called Obama son of a whore… and Ban Ki-moon is a fool!' – Philippines president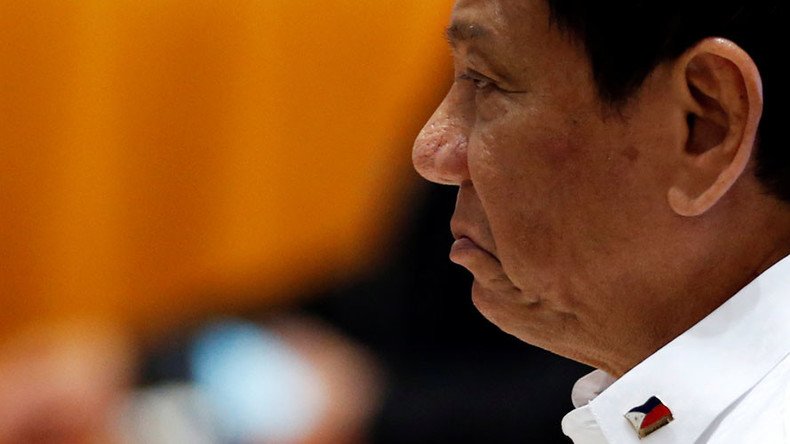 Philippines President Rodrigo Duterte has now denied that he called US President Barack Obama "a son of a whore." However, after the row over the insult subsided somewhat, Duterte switched to the UN secretary-general, calling him a "fool."
The US and Philippines presidents shook hands at a banquet on Wednesday. It was the presidents' first encounter since Barack Obama canceled their last scheduled meeting two days earlier, following a verbal outburst in which Duterte called the US leader a "son of a b*tch/whore" during a discussion on the Philippines' attitude towards human rights amid a crackdown on drug crime.
Following the brief meeting, Duterte addressed the allegations of the insult on Friday, denying he had ever described Obama using those words, while maintaining his stance on how drug crime in the Philippines should be handled.
Duterte is known to be sharply at odds with Obama over whether the US has the right to meddle in the Philippines' crime-fighting strategy.
The two were scheduled to meet last week at the ASEAN summit in Laos, before Duterte launched into Obama.
Duterte said on Friday, "I was ready [for Obama]. I was waiting for Obama to respond. Lawyer to lawyer, we are both lawyers anyway... I said I never made the statement. Check it out."
He added that "...I said that, but not in relation to Obama… I'm not fighting with America."
For his part, Obama recently said he continues to view the Philippines as an important ally.
However, after fears that the two would not get along were allayed during their brief banquet meeting, Duterte once again attracted the spotlight by calling UN Secretary-General Ban Ki-moon "a fool."
Responding to comments directed at human rights violations allegedly committed during his drug crackdown, Duterte noted that: "Even Ban Ki-moon weighed in… [He] also gave a statement before, several weeks ago, about the human rights violation. Sabi ko, isa ka pang tarantado (you are another fool)."
Duterte delivered the insult in his native Tagalog tongue, just as he had with the statement about Obama, which he now claims he never made.
Duterte's tactics in fighting drug crime have come under fire, as over 2,000 Filipinos have been killed in the effort so far, according to police figures.
The Philippines president came to power in May promising to put an end to the problem in his country and wipe out drug dealers there. According to the latest statistics cited by AFP, police have killed 1,011 suspected criminals since June, and there are an additional 1,391 "deaths under investigation."
It's not unusual for the Philippines leader to spew vitriol on officials he is displeased with, as the international community has learned on occasion. He previously took issue with the US ambassador to the Philippines, whom he called a homosexual, which would be considered an insult by much of the population there.
WATCH MORE:
You can share this story on social media: