Swedish military plunders museums to bring back Cold War missile system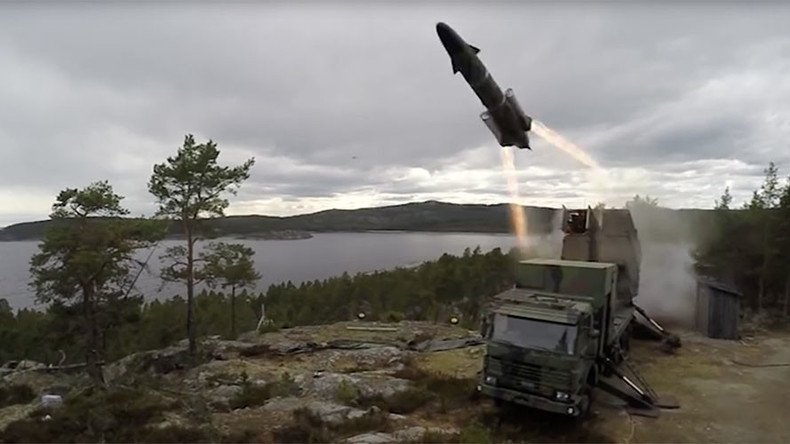 Sweden has test-fired a resurrected Cold War-era anti-ship missile system, taking launch trucks back from museums in a bid to increase its defensive capabilities.
The Swedish military, which disbanded its coastal artillery back in 2000, has now realized that the land-based systems must be returned to service.
The Kustrobotbatteri 90 was the only launcher the country ever produced that was capable of firing Saab Robotsystem 15 (RBS-15) anti-ship missiles from shore.
Restoring the missile system called for a creative approach from the armed forces, Rear Admiral Thomas Engevall said.
"We analyzed whether we would be able to put something back together again which was capable of launching it," he told the Dagens Nyheter newspaper.
The Scania trucks from which the test-firing was carried out on Friday were recovered from military museums.
"A number of the trucks still remained. We took components from existing missile boats and warships which had the same missile system," Engevall said.
The maker of the RBS-15 missile, Saab, assisted the Swedish military in putting the system back together piece by piece.
"It is extremely good that we have land-based coastal missile systems back in our national defense," Peter Hultqvist, Swedish defense minister, said as he visited the drills.
"It means that we can shoot anti-ship missiles from land over great distance. It provides increased flexibility and capability in marine warfare. It increases military capability, and that's something we need," the minister added.
The land-based anti-ship missile systems are planned to be stationed on the island of Gotland to increase its defense capabilities.
In September, 150 troops were put on permanent service on the island not far from Russian territory, due to what Swedish officials called "external factors."
In recent years, Stockholm has consistently claimed that Russian jets have been flying near the strategic area in the Baltic Sea.
READ MORE: Russia poses no 'direct' threat to Sweden – Swedish PM
In October 2014, the Swedish Navy launched a large-scale hunt for a Russian submarine allegedly seen in its territorial waters, only to acknowledge that the incident was caused by a simple workboat.
The Swedish authorities in 2015 allocated an additional 6.2 billion kronor ($696 million) to increase defense capabilities in 2016-2020 due to increasing concerns over Russia's presence in the Baltic Sea.
You can share this story on social media: