Sweden puts permanent troops on strategic island near Russia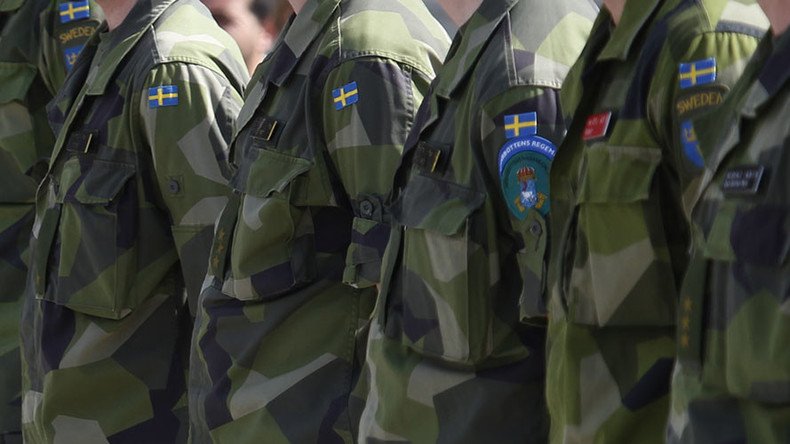 The Swedish military has announced that troops training on the island of Gotland in the Baltic Sea, not far from Russia, will remain there permanently. Officials said "external factors" prompted the order for some 150 soldiers to stay on the island.
"The armed forces [now] … have joint permanent groups and troops on Gotland. Gotland is one of our military strategic areas in Sweden … Gotland needs … to increase their operational capacity, and allow troops to practice and work in the field," the Swedish Armed Forces cited Supreme Commander Micael Byden as saying on its website.
Byden later told Swedish broadcaster SVT that "external factors in the world have deteriorated over time and it means I have made a decision about a permanent presence and that we put the battle group here earlier."
Some 150 soldiers currently training on Gotland received orders on Wednesday morning to remain on the island.
"We have to look realistically at the situation in the world. The armed forces are now taking their responsibility, and demonstrating that with increased military capability we are taking responsibility for the country's sovereignty," Byden added.
Earlier, the Swedish Armed Forces said that "until the battle group is in place, units from different parts of Sweden will be stationed and operate on and around the island."
The last permanent troops left the island back in 2005, the ministry said, adding that Sweden had decided to increase its defense budget by 10.2 billion kronor (US$1.2 billion) from 2016-2020.
"According to an agreement in 2015 the armed forces should establish a battle group on Gotland by 2018 at the latest, so this is completely in line with what a majority of parliament has decided," Defense Ministry spokesperson Marinette Nyh Radebo told the TT news agency.
READ MORE: Confirmed: US spy plane fleeing Russian jet invaded Swedish airspace
Gotland, a strategic location in Sweden, has recently seen an increased military presence. Since 2010 Stockholm has consistently claimed that Russian jets are flying near the strategic island in the Baltic Sea.
In late 2014, Sweden and Denmark complained about a Russian fighter jet flying with its transponder off and nearly crashing with a passenger plane. Moscow said the maneuvers of its military aircraft posed no threat to the commercial airliner.
READ MORE: Swedish military wants $700mn to hunt subs after autumn 'chase'
In October 2014, the Swedish Navy launched a large-scale, yet fruitless, hunt for a Russian submarine allegedly seen in its territorial waters. In April 2015, Swedish Navy officials confirmed that the 'Russian sub' was actually a workboat.
The Swedish authorities in 2015 allocated an additional 6.2 billion kronor ($696 million) for the period 2016-2020 due to increasing concerns over Russia's growing military presence in the Baltic Sea. The information came after the country's military claimed its fighter jets had detected four Russian Tu-22 supersonic bombers in the international airspace over the Baltic Sea.
You can share this story on social media: