Putin talks Trump, Brexit, TTIP at APEC briefing in Lima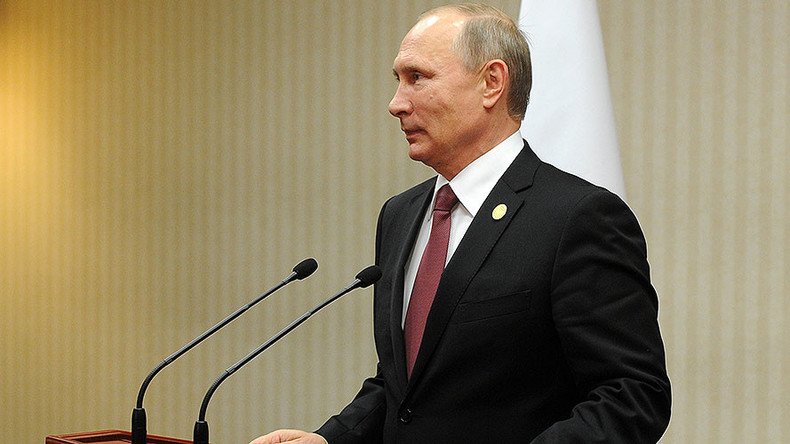 Russian President Vladimir Putin said he hopes both the EU and the UK use common sense in the Brexit process so that it doesn't have negative consequences. Putin also explained his position on US President-elect Donald Trump and the TTIP deal.
READ MORE: 'Progress in all areas': Putin to visit China as Moscow, Beijing expand trade, economic ties
Putin held a brief Q&A with the media in Lima on Sunday as the APEC (Asia-Pacific Economic Cooperation) summit was coming to its end. The president was asked a wide range of questions, on subjects as varied as Brexit and the oil production cap to Russia's relations with US and Japan.
Brexit
"With regard to Brexit, a lot will depend on the form of the UK exit, its speed," Putin said. "There are, of course, certain threats, but I think that all our colleagues will have enough common sense. There are very good specialists in the EU and the UK."

"I'm sure that the situation will develop in a sober way," he added.
Trump & Obama
Speaking on Donald Trump's victory in the US presidential election, Putin said Moscow would have to wait and see as rhetoric during presidential campaign could differ from actual White House policies. He noted that Trump has confirmed his willingness to improve US-Russian relations.
"The President-elect confirmed he is willing to normalize Russian-American relations. I told him the same."
Putin said no concrete date for a meeting between the leaders has been chosen yet, adding that Washington and Moscow have agreed to arrange a meeting of representatives.
Commenting on his brief meeting with the outgoing US president, Barack Obama, Putin said they drew some conclusions on seven years of working together on global issues.
"We acknowledged that despite the fact that our dialogue was not easy – if truth be told, it was difficult to work with each other – but both President Obama and I noted that we have always respected the positions of one another, as well as each other [personally]," Putin said.
"I thanked him for all the years of mutual work and said, that if he finds it possible or has the desire to do so, we will be glad to welcome him in Russia any time," Putin said.
TTIP
Weighing in on the Transatlantic Trade and Investment Partnership (TTIP), a proposed free trade deal between the US and the European Union, Putin argued that it would be detrimental to economic development.

"Creating closed trade [blocs] will not benefit the global economy," Putin said, stressing that "regional unions must follow universal rules."
"My view has not changed. Moreover, I said that Russia believes that one of the factors contributing to the restoration of global economic growth is the development of global trade. And global trade cannot effectively evolve without the free movement of goods, capital and labor," he added.
OPEC & oil output
Asked about Russia's stance on limiting oil output, Putin reiterated that Moscow will support a decision to cap oil production.

"As far as the upcoming OPEC meeting is concerned and our position, it remains unchanged and we have said it many times already: We are ready to freeze oil production at the level, at which it is now," Putin said.
READ MORE: OPEC optimistic on output deal with new offer to Iran
"I cannot say with 100 percent certainty if the agreement [to freeze oil production] will be reached, but there is a huge possibility," Putin said, stressing that Russia "will, for its part, do everything what our OPEC partners expect from us to do."
Corruption scandal
Reflecting on the arrest of Russian Economy Minister Alexey Ulyukayev, who was caught red-handed last week while accepting $2 million bribe for greenlighting a takeover involving state-controlled Russian oil companies, Rosneft and Bashneft, Putin said that this "saddening event" would not "in any way" affect the acquisition deal.
He also said that Ulyukayev's arrest did not change his attitude to the effectiveness of government's work, which he said was "normal."
"The government has always been under special public attention, each step of the government is being analyzed. We all do not work without mistakes, probably, the government could have done some things faster, but, in general, it is working effectively given the difficult conditions we have to operate within," Putin said, adding that he will resolve all remaining issues concerning the minister's replacement upon his return from the APEC summit.
Japan & Kuril Islands dispute
Putin noted the positive dynamic in Russian-Japanese relations, saying that both countries "sincerely" want to sign a peace treaty ending the formal state of war.
"Russia and Japan both sincerely want to sign this treaty and are looking for ways to do it… I only know that this endeavor should be supported at all costs," he said, calling the absence of the pact a "relic of the past" which hinders progress in bilateral relations.

He admitted that that the recent renewal of ministerial consultation talks itself can be also perceived as "progress, to a certain extent," adding that preparations to his scheduled visit to Tokyo in December "have just started." Both Moscow and Tokyo are trying to find a compromise in the Kuril Islands dispute, which has prevented both sides from signing a peace treaty since World War II.
Touching on possible solutions to the Kuril Islands dispute, Putin said that Moscow still "believes that at the moment [the four contested Kuril Islands] are sovereign Russian territory, enshrined in international documents." However, he added that dialogue continues and "we are saying that different options are possible."
READ MORE: Western nations start wars they are scared to fight themselves – Duterte to Putin at APEC summit
You can share this story on social media: