S. Korea's Park implicated in corruption case, president's friend & aides charged – prosecution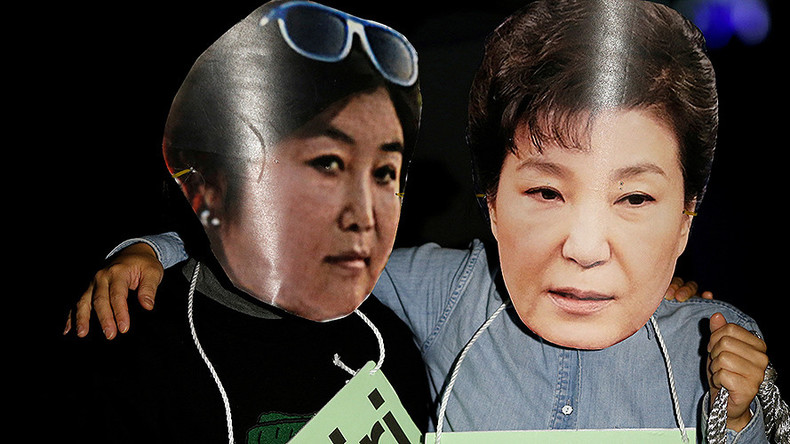 In the strongest accusation in the scandal to date, South Korean prosecutors said President Park Geun-hye had a role of an accomplice in the corruption case, which saw her friend and two former aides charged with abuse of power – but can't be charged due to immunity.
Park's friend Choi Soon-sil and ex-presidential aide An Chong-bum have been charged with abuse of power and are being probed over meddling into state affairs, the head of the Seoul Central District Prosecutors' Office, Lee Young-ryeol, has announced.
Another ex-aide Jeong Ho-seong has been indicted with leaking classified information to Choi. Both Jeong and An have stepped down.
The president herself had an "accomplice role" in the case which saw Choi and An using their position to pressure dozens of conglomerates to help raise 77.4 billion won ($65.59 million) on behalf of her two non-profit foundations, Reuters reports, quoting the prosecutors.
Choi has also been accused of using her confidante role to allegedly meddle into home affairs, which could have included deliberate correction of Park's speeches.
"We will continue to investigate the president," Lee said.
However, Park cannot be indicted in the case as she has a constitutional immunity.
The presidential office and her lawyer both said that they "regretted" the results of the interim investigation and questioned the allegations against Park.
"I… cannot accept any part that listed Park as an accomplice," the president's attorney Yoo Yeong-ha said in a statement issued hours after the prosecution published its findings. He said the allegations that Park has been complicit were based on "imagination and conjectures."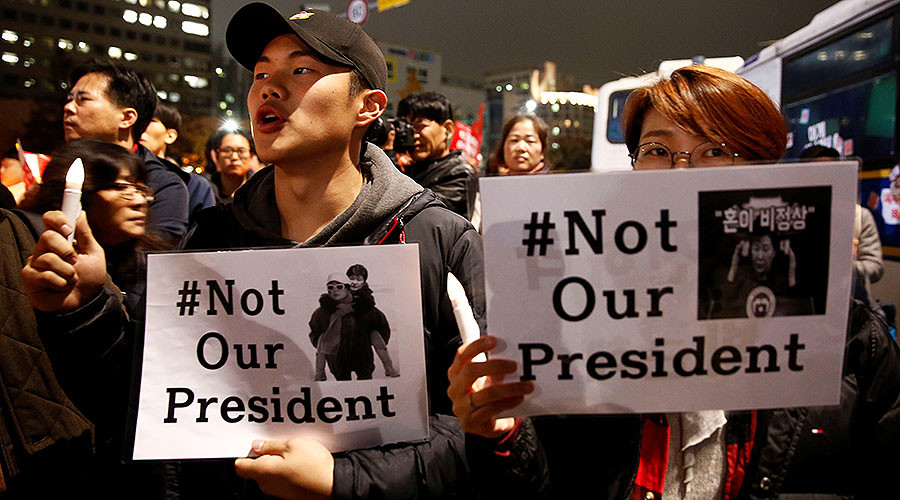 Meanwhile opposition parties reiterated their calls for Park's resignation, threatening to impeach her if she does not step down of her own accord.
"The crux of this case is the fact that the president, who has to safeguard the Constitution, has destroyed the basic law," said Ahn Cheol-soo, former co-chair of the opposition People's Party.
The ruling Saenuri Party, some factions of which have been opposed to the president during her term, said it was premature for her to step down before she is questioned by the prosecution.
"We hope that the facts behind the scandal will clearly be verified through the ongoing prosecutorial probe, a planned independent counsel investigation and a parliamentary inquiry," a Yeom Dong-yeol, party spokesman told reporters.
Park's five-year term expires in February of 2018 and she is barred by the law from holding the presidency again.
READ MORE: Thousands take to streets in S. Korea as corruption scandal involving president deepens (VIDEO)
President Park has suffered a dramatic plunge in public approval to the historic-low 5 percent because of the scandal and has seen hundreds of thousands taking to the streets of Seoul for weeks to protest against her. Park has publicly apologized and vowed to cooperate with the investigation but has refused to step down.