'Step down, criminal!' Tens of thousands demand S Korean president's ouster (VIDEO)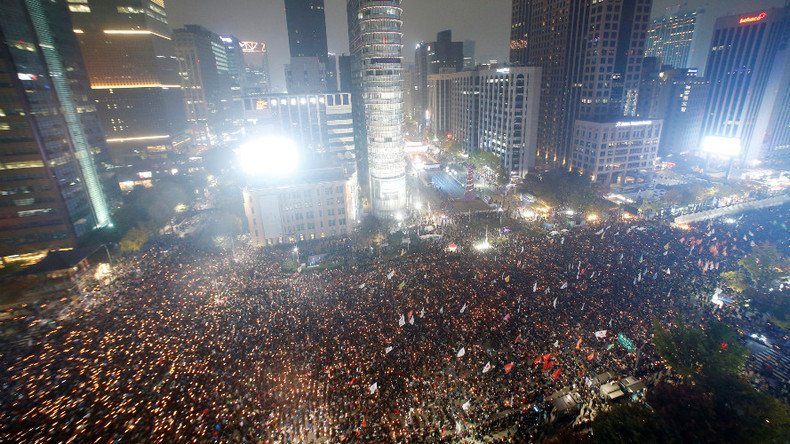 Over 40,000 took to streets of the South Korean capital, Seoul, on Saturday, demanding the resignation of President Park Geun-hye over a massive influence-peddling scandal.
The rally gathered around 43,000 people, police said, while the organizers put the attendance at well over 100,000. It was one of the largest protests in South Korea since the demonstrations against US beef imports back in 2008.
Saturday's protest came a day after President Park's live TV appearance, in which she apologized for allowing her close friend to meddle with state affairs and promised to fully cooperate with the investigation.
The demonstrators in Seoul chanted "Arrest Park Geun-hye!" "'Step down, criminal!" and "We can't take this any longer."
They also held lit candles and banners, reading "Park Geun-hye out!" and "Treason by a secret government."
Police had deployed 17,600 officers to provide order at the event. The presidential Blue House was cordoned off by buses and riot police as the rally turned into a march through the center of the Korean capital.
"Even though we're just students, we feel like we can't put up with this unreasonable society anymore so we're participating in this protest," Byun Woo-hyuk, a high school student, was cited by Reuters as saying.
College student Kim Seo-yeon told AFP: "Park should squarely face the prosecution's investigation and step down herself. If she doesn't, politicians should move to impeach her. She absolutely lost all authority as president over the past few weeks."
"I came out today because this is not the country I want to pass on to my children. My kids have asked me who Choi Soon-sil was and whether she's the real president, and I couldn't provide an answer," said another demonstrator, Choi Kyung-ha, a mother of three.
Earlier this week, a long-time friend of Park and the daughter of a late cult leader, Choi Soon-sil, and two presidential aides were arrested on suspicion pressuring businessmen into allocation $70 million to two foundations under her control.
Claims were also voiced that Choi, who wasn't part of the government, had access to classified data on a regular basis and interfered in state affairs, affecting policy decisions and appointment of ministers.
As the scandal erupted, Park sacked eight of her aides and nominated three new ministers, including the PM, but was only blamed for a diversionary tactic by the opposition.
In a televised apology, the South Korean president said that she felt "huge responsibility" for the current situation.
"It is all my fault and mistake… I put too much faith in a personal relationship and didn't look carefully at what was happening," she said.
However, Park denied reports that she had "fallen into worshiping cult religions or that shamanistic rituals were held at the presidential Blue House."
"Her speech made me even more angry," Park Mee-Hee, who came to the protest with her teenage daughter, told AFP. "She kept making ridiculous excuses as if she was totally innocent. She should step down right now."
"What is really irritating is the fact that Choi was acting like a regent for Park, controlling her decision-making," said Kim Do-Hyun, a science student.
If the opposition parties begin a serious push for Park's resignation or impeachment, she may become the first South Korean president who was unable to complete a five-year term in office.
The scandal saw the president's approval ratings crumbling to just 5 percent, according to Gallup, which is the lowest number since the polling started in 1988.
You can share this story on social media: