Russian strategic bombers strike ISIS & Al-Nusra in Syria with cruise missiles (VIDEO)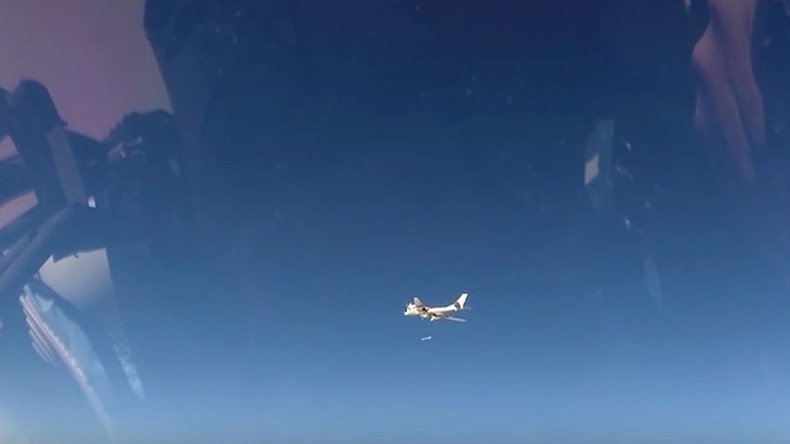 Russia has deployed strategic bombers to launch strikes on Islamic State (IS, formerly ISIS/ISIL) and Al-Nusra Front targets in Syria, the Defense Ministry reported. The bombers flew from Russia for the mission, and fired cruise missiles while over the Mediterranean Sea.
With in-flight refueling on two occasions, the bombers covered a distance of some 11,000km (6,835 miles), flying over a northern sea route and the eastern Atlantic.
Su-33 fighter jets from Russia's Admiral Kuznetsov aircraft carrier and air forces from the Khmeimim base in Syria were also deployed in the strikes on Thursday, Interfax reported, citing the Defense Ministry. Su-30 jets provided cover for the mission, the report added.
After launching cruise missiles at terrorist targets in Syria, the Russian jets returned to base, the ministry said.
Terrorist command points, weapons and ammunition depots, as well as an arms production facility were targeted by the strikes, the Russian military said, adding that all coordinates had been checked through several intelligence channels.
"The results of the strikes were also controlled by drones," the Defense Ministry reported.
READ MORE: 3 Nusra commanders, dozens of jihadists killed in airstrikes from Russian aircraft carrier – MoD
Earlier this week, the Defense Ministry announced that Russia was carrying out a large-scale military operation against terrorists in Syria. The Admiral Kuznetsov, Russia's only aircraft carrier, took part in the mission for the first time. Su-33 jets were sent on sorties from its deck, targeting terrorist forces in Homs and Idlib provinces. The Russian frigate the Admiral Grigorovich was also deployed in the offensive.
You can share this story on social media: