3 Nusra commanders, dozens of jihadists killed in airstrikes from Russian aircraft carrier – MoD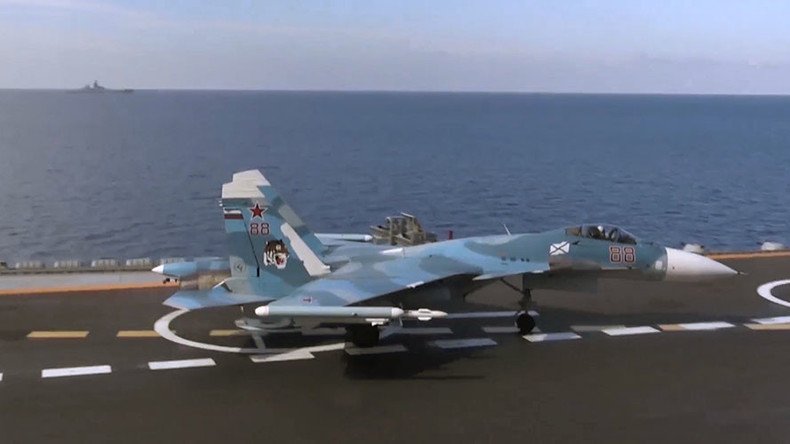 Three "well-known" commanders of Al-Qaeda's Syria affiliate formerly known as Al-Nusra Front, including one who planned attacks on Aleppo, were killed in Russian strikes launched from aircraft carrier Admiral Kuznetsov, a Defense Ministry spokesman said.
"As a result of strikes delivered by Su-33 carrier-based fighter jets and air group of the Admiral Kuznetsov aircraft carrier, a large gang of the Jabhat al-Nusra group was destroyed in the province of Idlib," Russian Defense Ministry spokesman Igor Konashenkov said Thursday.
At least 30 terrorists were killed, including three field commanders, Konashenkov said, adding that the operation resulted in a "major blow" against Al-Nusra, which now goes by the name of Jabhat Fatah Al-Sham.
Konashenkov said the "well-known" commanders were Muhammad Helala, Abu Jaber Harmuja and Abul Baha Al-Asfari.
"Eliminated field commander Abul Baha al-Asfari was in charge of uniting the remaining reserves of Jabhat al-Nusra groupings in the provinces of Aleppo and Hama, as well as of planning and carrying out another militant attack on Aleppo," Konashenkov said.
On Tuesday, The Defense Ministry revealed that Russia's only aircraft carrier, the Admiral Kuznetsov, had for the first time taken part in a large-scale military operation, targeting terrorist forces in Homs and Idlib provinces as Su-33 jets began sorties from its deck. RT's crew, which had been invited to witness the onset of the operation from the carrier, was told that all the bombers were fully equipped for the combat mission, each carrying high-precision 500kg bombs. Prior to the launch of the operation, Russian Defense Minister Sergey Shoigu said that Russia had determined "the main targets" in the region, which included "ammunition warehouses, spots occupied by the militants; to be more precise – terrorists."
READ MORE: 'Kuznetsov carrier in Syria is quantum jump in Russian military capabilities'

The Russian frigate Admiral Grigorovich was also taking part in the offensive, firing missiles at carefully selected targets.
You can share this story on social media: