'Kuznetsov carrier in Syria is quantum jump in Russian military capabilities'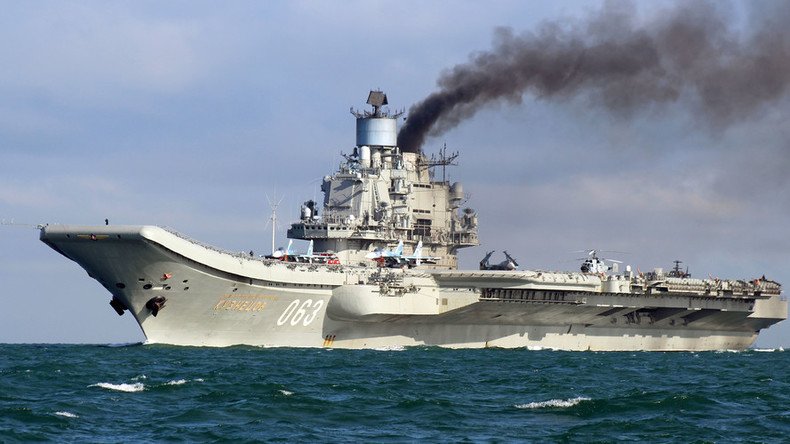 The original purpose of sending the Russian aircraft carrier to the Mediterranean was to cut off the American option to crater airfields in Syria, says Peter Ford, former British ambassador to Syria. This new phase of the operation could be decisive, he adds.
Russian Defense Minister Sergey Shoigu says the country's air force has begun a large anti-terror combat operation in the Syrian provinces of Homs and Idlib.
The Russian frigate Admiral Grigorovich has fired missiles at terrorist positions in the country. The Russian Navy flagship, the Admiral Kuznetsov aircraft carrier, is also taking part in this operation.
Before it began Shoigu stressed, "We conducted serious surveillance of all the targets; that's why the main targets have been determined. They are ammunition warehouses, spots occupied by the militants; to be more precise – terrorists."
This new phase of the operation comes shortly after Russian President Vladimir Putin and US President-elect Donald Trump discussed the crisis in Syria on Tuesday and agreed to improve bilateral ties.
READ MORE: Putin & Trump discuss Syria and US-Russia relations in phone call – Kremlin
"I think it could be quite decisive," Peter Ford, former British ambassador to Syria, told RT commenting on the timing of the operation and the tactical advantage of using the Admiral Kuznetsov aircraft carrier.
"It is a quantum jump in the Russian military capabilities. I do think the original purpose in sending the aircraft carrier was more to cut off the American option - at one time they were preparing to crater the airfields. Having an aircraft carrier standing by takes away that option. There is no point in cratering the airfields if planes can take off from an aircraft carrier. But now the carrier and its accompanying force is in place, that does give the Russian military an extra option which it looks as though they are now going to deploy heavily," he said. "Those are very nice calculations to be made with regard to Aleppo. We understand that the current operations do not so far affect the inner city of Eastern Aleppo, the standoff continues there; the question is whether the pause, the standoff will continue in light of what's just happened in America," Ford added.
Ammar Waqqaf, Managing Director from Gnosos Limited, said that the use of the aircraft carrier "almost doubles the resources."
"And we need to remember this battle group possesses the capability of launching cruise missiles. And this capability has previously been mostly used by TU-22M strategic bombers going from Russia into Syria. So, that is a long fly. Here there is a stationed group off the Syrian coast and they obviously possess large quantities. So, that sort of doubled resources is the tactical advantage which provides more decisive military action," he told RT.
Brad Hoff, a US Marine veteran said it has "major overwhelming air strikes to support military movements on the ground."
"In 2003 with the invasion of Iraq, the Bush White House called this tactic Shock and Awe. But this s a very different kind of situation where I see Russia's entry into the theater as initially more defensive, but at this point there are people saying, 'it is time to end this war.' And I think you actually have a quiet nod coming from the Obama White House who is finishing his term, he is on his last trip to Europe. I doubt any of this would be happening now without some kind of US-Russian military-to-military communication," Hoff told RT.
Last week, the US president ordered that Al-Nusra terrorists be targeted but there's been no decisive action from the US-led coalition yet. RT asked Hoff whether that is likely to happen any time soon.
"I actually think decisive action is simply to look the other way as Russia escalates its operations. The fact that there is a Russian carrier in the Mediterranean was no secret to anyone. The fact that it is parked where it is, I think was definitely allowed by the Western coalition. I think the West is unwilling to wrap up this destabilizing war. Obama's policy has been seen as a 'one foot in, one foot out' just preferring covert operations and it appears that those who argued that covert operations in Syria such as CIA regime change as well as the Pentagon's 'train and equip program', I think the voices that said that was a complete disaster and has only added to the destabilization of the region have won out," he said.
The statements, views and opinions expressed in this column are solely those of the author and do not necessarily represent those of RT.
You can share this story on social media: