Mary Jane may break your heart, scientists warn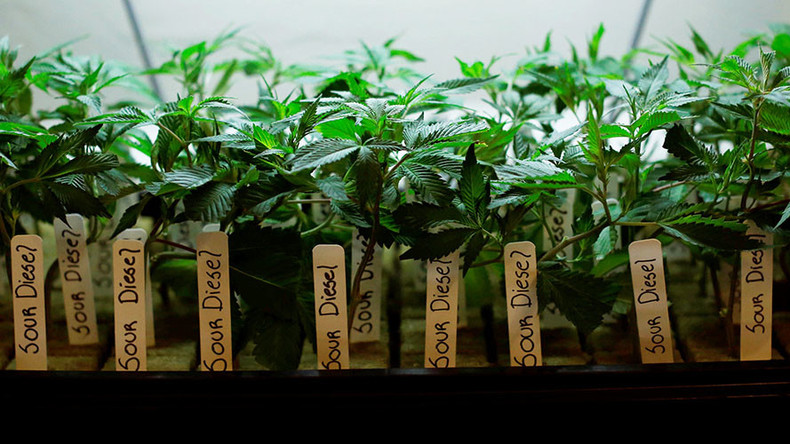 A new study has uncovered a possible link between smoking marijuana and a condition known as "broken heart syndrome." While there is no indication the syndrome is necessarily lethal for pot users, researchers warn they should be checking their heart more often.
READ MORE: States across US, including Florida and California, vote to legalize marijuana
Smoking cannabis may double the risk of stress cardiomyopathy, in which intense physical or emotional pressure can lead to a weakening of the heart muscles, causing chest pain, dizziness and shortness of breath, says the study presented at the American Heart Association's Scientific Sessions.
Although the condition, informally referred to as "broken heart syndrome," is generally nonlethal, the affected marijuana users also run a higher risk of cardiac arrest.
"The effects of marijuana, especially on the cardiovascular system, are not well known yet. With its increasing availability and legalization in some states, people need to know that marijuana may be harmful to the heart and blood vessels in some people," Amitoj Singh, study co-author and chief cardiology fellow at the St. Luke's University Health Network in Pennsylvania, said in a statement.
In a sample of 33,343 Americans who were treated for stress cardiomyopathy between 2003 and 2011, 210 admitted to or were found to be using marijuana. While this is less than 1 percent of the sample, the users were often found to be younger with an average age of 44 (66 for non-users) and over one-third of them were men (as opposed to merely 8 percent among non-users). Even accounting for other factors like stress and anxiety, the link between marijuana and stress cardiomyopathy was deemed strong.
READ MORE: British govt admits marijuana extract has medicinal effect
"If you are using marijuana and develop symptoms such as chest pain and shortness of breath, you should be evaluated by a healthcare provider to make sure you aren't having stress cardiomyopathy or another heart problem," Singh said.However, it should be noted that none of the patients subsequently died from their condition, and as an observational study there was no direct cause and effect. Neither could the researchers ascertain exactly how much marijuana the patients used and over how long a period.
"We don't know everything about marijuana," Singh told Live Science.
The findings come at a time when increasingly more American states vote to legalize marijuana. On November 9, four states including California voted to legalize recreational pot, bringing the total up to eight states as well as the District of Columbia. Outside of the US, Uruguay was the first country to legalize marijuana completely in 2013, while other countries and regions have been experimenting with similar proposals. The US Drug Enforcement Administration however remains strongly in favor of prohibition, refusing to reclassify the drug down to Schedule II which leaves it in the same category as heroin.
READ MORE: Australia legalizes medical marijuana cultivation