Woman fined $32,700 for wearing niqab in Italian town hall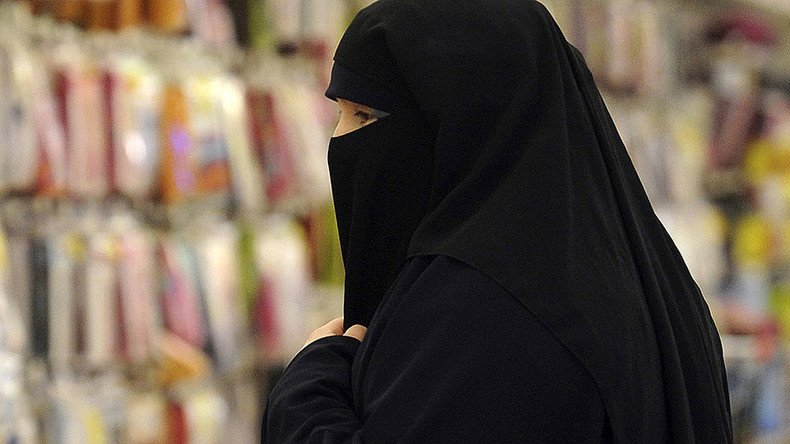 A Muslim woman was ordered to pay a hefty fine for refusing to lift her veil for an identity check after visiting a youth meeting at a town hall in north-east Italy. She was initially sentenced to four months in jail and a much smaller fine, but this was later changed by a higher judicial authority.
The 40-year-old Albanian who wears a niqab – an Islamic full-face veil leaving only a small opening for the eyes – attended local youth parliament meeting in the town of Pordenone in late October. The woman's son was participating in the event.
The woman lived in the neighboring town of San Vito al Tagliamento for 16 years and was granted Italian citizenship several years ago.
She consistently refused to remove her veil for identification purposes despite the town mayor, Antonio Di Bisceglie, repeatedly asking her to do it. Di Bisceglie, who is from Italian Prime Minister Matteo Renzi's Democratic Party, then called police officers, who took the woman away from the meeting.
However, she then returned, forcing Di Bisceglie to suspend the meeting so that the dispute did not degenerate into a verbal battle in the presence of minors, the local Messaggero Veneto news outlet reported.
The case was then brought to court, where a local prosecutor, Federico Facchin, charged the woman with concealing her identity. He sentenced her to four months in prison and a fine amounting to €600 ($650). The initial sentence was then changed by a higher judicial authority and the woman was ordered to pay a fine amounting to €30,000 ($32,700).
Law enforcement authorities stressed that the decision has nothing to do with religion and was based exclusively on security concerns.
According to the prosecutors, the woman violated a 1975 law that prohibits covering one's face in public places in a way that prevents successful identification. The lawyer of the woman told Messaggero Veneto that he would appeal the decision as the law in question forbids facial coverings without "justification" and religions reasons could be considered sufficient justification in this case.
Meanwhile, wearing Muslim apparel becomes increasingly controversial issue in Europe. In summer 2016, several French towns and cities, including Cannes, banned burqinis, Muslim full-body swimsuits, on city beaches, sparking a nationwide debate on the issue.
A bill envisaging a ban on burqas was introduced on August 16 in Germany. The idea of banning burqas is also supported by the vast majority of Germans as an August poll conducted by the German ARD broadcaster demonstrated that 30 percent of German citizens advocate banning the burqa in public places and 50 percent of Germans want to forbid them completely.
In late September, the Swiss parliament approved a draft bill envisaging a nationwide burqa ban and, three days later, Bulgaria followed suit and banned burqas in public places.
urope also witnessed several controversial incidents' involving Muslim veils. In September, a restaurant owner in Germany expelled a Muslim woman for refusing to remove her niqab, sparking a social media storm.
In August, a German court backed a school authorities' decision which banned a student from attending classes wearing a full face veil. The next day, the German Education and Science Workers' Union, which is a teachers' association, criticized the court decision, calling it counter-productive.
You can share this story on social media: