Russia to keep staging 'humanitarian pauses' in Aleppo but won't let terrorists take advantage – MoD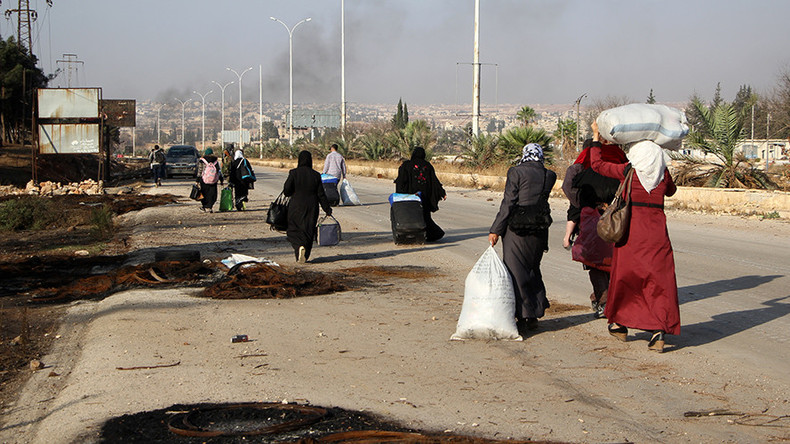 The Russian military will continue staging 'humanitarian pauses' in the Syrian city of Aleppo, but their length won't be increased. Otherwise terrorists would use them to restore their own battle capabilities, Russia's defense ministry said.
According to the ministry, it received a letter from Senior Adviser to UN Special Envoy for Syria, Jan Egeland, earlier this week, in which he requested that the length of future Russian "humanitarian pauses" be increased.
Russian Defense Ministry spokesman, Major-General Igor Konashenkov, acknowledged that "humanitarian pauses" are, "certainly, necessary."
However, he stressed that "simply prolonging them, not for the sake of providing real assistance to the civilian population, but for the terrorists to better restore their combat capability, is counterproductive." The spokesman added that Russia already delivered 100 tons of humanitarian cargo to Aleppo "regardless of any 'humanitarian pauses."
"The 'humanitarian pauses' aren't being introduced overnight. The UN representatives are being informed in advance of their date and time, the placement of humanitarian corridors to be used by civilians and withdrawing militants, the security measures, the number of available buses, ER vehicles, hot food stalls," he said.
The UN defines a 'humanitarian pause' as "a cessation of hostilities negotiated purely for humanitarian purposes."
Russia halted its air strikes in Aleppo, which remains split between the Syrian government forces and the terrorists, on October 18, and has been regularly organizing 10-hour "humanitarian pauses" in the city.
Also on Thursday, Egeland said that the United Nations is confident that Russia will remain committed to maintaining a pause in its air operations in Aleppo.
"We are in continuous contacts with Russian diplomats and military and it is my clear impression that they are willing to continue pause in air operations," Egeland said during a briefing on Thursday, as cited by Sputnik.
As for America's newly elected president, Donald Trump, the senior UN adviser said that "we need uninterrupted full engagement by the US in our humanitarian diplomacy in Syria … we need it from Russia and from the United States."
READ MORE: 'We've delivered 100 tons of aid to Aleppo, Americans haven't brought one breadcrumb' – Russian MoD
Egeland urged the parties on the Syrian conflict to allow the humanitarian aid deliveries and medical evacuation in eastern Aleppo.The UN needs security guarantees to perform the operation, which may take "several days and nights," she said.
According to the adviser, the situation in Aleppo remains difficult, with some families not receiving aid for several weeks, with at least 300 injured and in need of evacuation.
Russia's Deputy Foreign Minister, Sergey Ryabkov, was also asked about "humanitarian pauses" in Aleppo on Thursday, telling Interfax "yes, we will continue" this practice.
Earlier this week, presidential spokesperson, Dmitry Peskov, said that Russian President Vladimir Putin considers the continuation of the "humanitarian pause" necessary.
READ MORE: Aleppo: 2 Russian soldiers injured, media evacuated in militant shelling of humanitarian corridor
Ryabkov also had to answer a question about Trump, assuring that Russia "will continue to undertake appropriate efforts [to find peace in Syria] with the current administration, and after the official arrival of the next one we'll keep working as well."
You can share this story on social media: