'We've delivered 100 tons of aid to Aleppo, Americans haven't brought one breadcrumb' – Russian MoD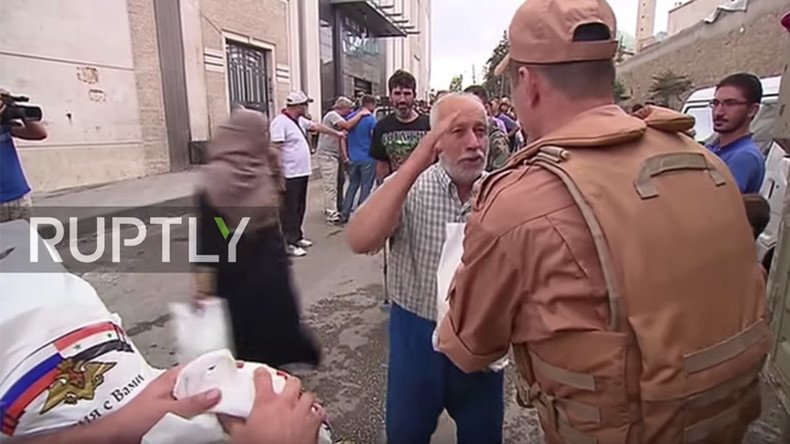 Russia's Defense Ministry has lashed out at comments recently made by US State Department spokesman John Kirby, who claimed that Russia's humanitarian efforts in Aleppo have been futile.
"Only in recent months, we've delivered more than 100 tons of the most essential goods – food, medicine and other basic necessities – to Aleppo. All the inhabitants of Aleppo had equal access to these goods, with no restrictions to those from the western or eastern part of the city. The State Department within this period has not delivered one bread crumb to the Syrians, for whom it supposedly cares so much," Russian Defense Ministry spokesman Major General Igor Konashenkov said in a statement on Sunday.
Just last Wednesday, humanitarian aid donated from Russia was delivered to people in one of the Internally Displaced Persons' (IDP) camps in Aleppo, as the footage below shows.
In a daily US State Department press briefing on Friday, John Kirby said that no humanitarian aid has been provided to the residents of Aleppo, including during the recent humanitarian pauses announced by the Russian and Syrian governments. Saturday marked 19 days since Russian and Syrian planes ceased carrying out airstrikes on terrorist positions in the city, according to the Russian Defense Ministry.
Russian and Syrian government forces also established humanitarian corridors through which both civilians and militants could leave the area, while international organizations also had the opportunity to deliver humanitarian aid. The militants have been reluctant to leave, however, and have been keeping civilians as human shields while incessantly shelling the government-held areas of the city. Yet the US State Department claimed that the citizens of Aleppo "certainly aren't feeling any benefits" from Russia's relief efforts.
"A humanitarian pause was designed for what? To allow people to leave, but it was also to allow aid to get in. And how much aid has gotten in? None.
"And so we're seeing reports now of citizens of Aleppo tying ropes around their abdomens to try to get around the abdominal pain that they're feeling from starvation. They're going to contaminated water sources for drinking water, because there isn't any. What little hospitals there are in Aleppo are now being forced underground into basements, and the medical personnel that are staffing them, we're seeing reports now, of them having to use non-sanitized equipment to try to tend wounds and to try to make people feel better. They're not able to sanitize their equipment.
"So whether the pause is in effect or not, you'd have to talk to the Russians. But the Syrian people, particularly the citizens of Aleppo, certainly aren't feeling any benefits from it," John Kirby told the journalists on Friday.
In response, the Russian Defense Ministry spokesman noted that such statements show how differently Moscow and Washington see "humanitarian pauses."
"Such statements show once again how different our understanding of the 'benefits' from the humanitarian pauses are is. For us it is, above all, aiding the people. Therefore, throughout our entire operation in combatting international terrorism in Syria, we have been paying very close attention to reconciliation efforts and humanitarian assistance to the Syrians.
"'Beneficial' help, in the view of the State Department, as we have seen, is a column of trucks that are to be directed to the eastern [rebel-held] part of Aleppo without inspection and control and accompanied by large-caliber mortars," Konashenkov specified, noting that if the "benefit" of a humanitarian pause is to be taken in this sense, then the last one really wasn't beneficial. He also stressed once more that, while accusing Russia of poorly managing the Syrian conflict, Washington itself has failed to deliver on its obligations under the Russian-American agreements within the ISSG (International Syria Support Group), which are aimed at bringing peace to the war-torn state.
"The US could not for all that time deliver on its obligations under the Russian-American agreements. Russia has not received any maps or coordinates of [terrorist-related] objects, or other information about any terrorist organization in Syria, from Islamic State [IS, formerly ISIS/ISIL] to Al-Nusra."
"And note this: When journalists record the shelling of residential areas, the State Department [says] it's Al-Nusra, but when the Syrian army is forced to return fire to the areas where it came from, the State Department calls it an attack on the 'opposition,'" the Russian spokesman said.
The Russian and Syrian Air Forces have continued to observe a no-fly-zone over Aleppo, staying at least 10 kilometers from the city. This humanitarian pause was established on October 20 to secure the release of civilians via six specially-created escape routes, but, according to the Russian Defense Ministry, only 12 Syrians have managed to flee east Aleppo over this period, as the terrorists holding the area have continually shelled those corridors when they are open. According to military intelligence, the terrorists have used the ceasefire period to transfer reinforcements to the area, aiming to break the siege, while also intensively shelling the government-controlled western part of the city.
READ MORE: 'No safe place in Aleppo': Militant shelling forces residents to flee govt-held districts

Meanwhile, on Friday, the UN said it still does not have enough security guarantees from the parties to the Syrian conflict to launch their own humanitarian operation in Aleppo.
"The United Nations still does not have the necessary security guarantees to send aid to East Aleppo," United Nations spokesman Stéphane Dujarric said on Friday, noting these guarantees should come from all sides of the conflict in Syria.
"This applies to all those who have a finger on the trigger, whether it is the government of Syria, or any other party involved in the conflict," he stressed, as cited by TASS news agency.
You can share this story on social media: