'No safe place in Aleppo': Militant shelling forces residents to flee govt-held districts
Aleppo is witnessing some of the heaviest fighting it's seen since the start of the Syrian war, as militants entrenched in the eastern part of the city are shelling government-held areas to the west. Residents are fleeing, saying nowhere in Aleppo is safe.
RT's Murad Gazdiev spoke to people fleeing the besieged city and those who have decided to stay regardless of the daily shelling.
One local resident told RT that rockets and bombs are falling all around the city.
"The house over there was hit by Grad rockets the terrorists were supplied with. There is no safe place in Aleppo," he said.
Another local said that he and his family are not leaving Aleppo, but are going to a safer place in another district.
"We would not leave Aleppo whatever happened. We are proud to stay here in our motherland because we have one life and one God," he added.
READ MORE: Putin orders 10-hour humanitarian pause in Aleppo on Nov. 4 – Russian military
Most of the city's residents are fleeing further into the city to stay with their relatives or in hotels.
"What can we do?!" exclaimed one woman, "Where can we go?! The start of winter has made the situation worse. We have no clothes, no blankets and we absolutely have nowhere to go. We can do nothing."
Gazdiev spoke to another man who had returned to the city to pick up clothes for his children.
"We put them into one bed to keep warm," he said. "That's the only thing we can do. May God punish the terrorists."
READ MORE: Aleppo terrorists shell escape routes, take $300 bribe per fleeing civilian – Russia's MoD
Once Syria's largest city with over 2 million people, Aleppo has seen its population dwindle significantly during the war.
Russia's Defense Ministry said on Sunday that the terrorists and 'moderate' rebels in Aleppo are demanding some 150,000 Syrian lira ($300) from civilians who want to leave the besieged city via humanitarian corridors.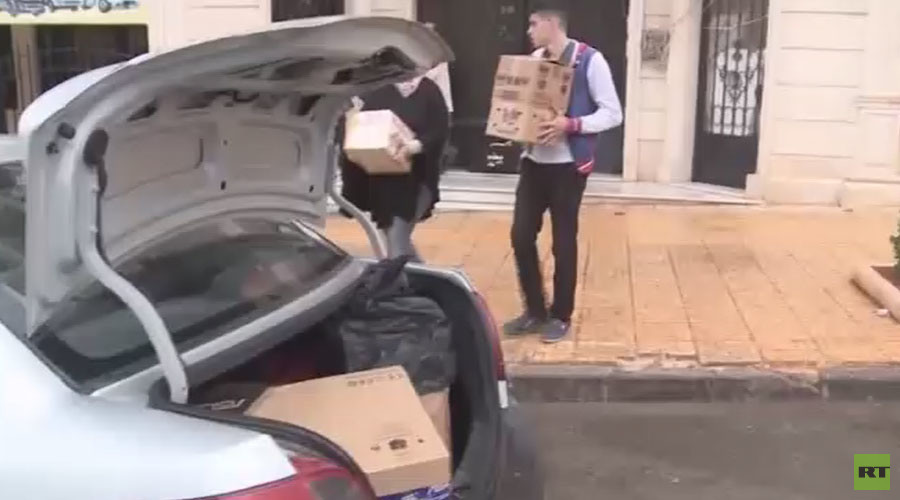 "According to the refugees, it became possible [to escape] after a bribe was paid to one of the field commanders at a price of 150,000 Syrian liras [around $300] for every person. In order to collect 1.8 million liras, the three families had to sell all their belongings," the ministry's spokesman, Igor Konashenkov, said.
The MoD also noted that the militants in Aleppo have continued to intensively shell Aleppo's residential areas and humanitarian corridors.
Russia has been assisting the Syrian Army in fighting Al-Nusra Front terrorists in eastern Aleppo, which has become the militants' stronghold in Syria.
You can share this story on social media: