'Despised, exploited, enslaved': Pope Francis says govts push refugees into hands of traffickers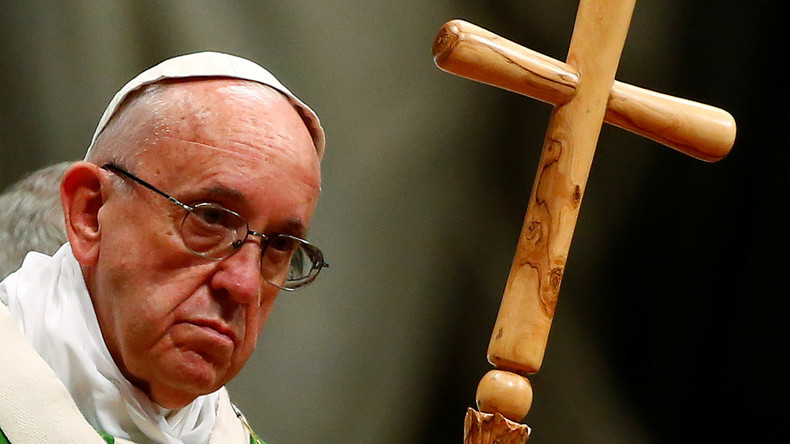 Pope Francis has slammed governments and institutions that never fail to find "scandalous sums" of money to save bankrupt banks, but turn a blind eye to the sufferings of migrants and refugees who often die as they attempt to cross the Mediterranean Sea.
"What happens in the world today, that when there is the bankruptcy of a bank, scandalous sums immediately appear to save it, but when this bankruptcy of humanity occurs, is there almost a thousandth of a part to save those brothers and sisters who suffer so much?" Francis asked, according to the Catholic News Agency (CNA).
READ MORE: 133 bodies recovered after migrant boat capsizes in Egyptian waters (PHOTOS)
Speaking at a Vatican meeting that included members of international NGOs, environmentalists, labor union representatives, and indigenous rights activists, the Pope stressed that the Mediterranean has become "a graveyard, and not only the Mediterranean... so many graveyards by the walls, walls stained with innocent blood."
The number of refugees and migrants reaching Europe this year has already passed the 300,000 mark, the UN said in September, adding that at least 3,167 people have died or went missing crossing the Mediterranean so far this year. "At this rate, 2016 will be the deadliest year on record in the Mediterranean Sea."
Read more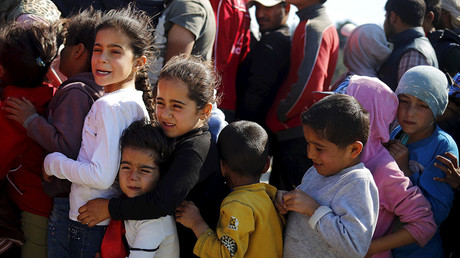 "Fear hardens the heart and becomes blind cruelty which refuses to see the blood, the pain, the face of the other," Francis said, adding that many asylum seekers are forced to turn to traffickers to cross the border, and are eventually "despised, exploited and enslaved."
"This can be seen in any corner of hundreds of cities," he said, urging international organizations to "open their eyes" and help all those pushed to leave their homes in search of a better life.
Francis said the gap between peoples "is increasingly enlarged as a consequence of the enormous power of economic groups and media that seem to dominate them."
The idea of social politics as a policy "toward the poor but never with the poor, never of the poor, seems to me like a type of dressed-up dump made to contain the waste of the system," the pontiff said.
"We know that as long as the problems of the poor are not radically resolved, giving up absolute autonomy of markets and financial speculation and attacking the structural causes of inequality, the problems of the world will not be resolved," he predicted, adding that inequality "is the root of social evils."
Another evil, according to Francis, is corruption, with the pope noting "there is no better antidote than austerity. And to practice austerity is, furthermore, to preach by example."
"I ask you not to underestimate the value of example, because it has more strength than a thousand words, a thousand leaflets, a thousand 'likes,' a thousand 'retweets,' and a thousand videos on YouTube," he said.