300 million children breathe extremely toxic air, 600k die annually – UNICEF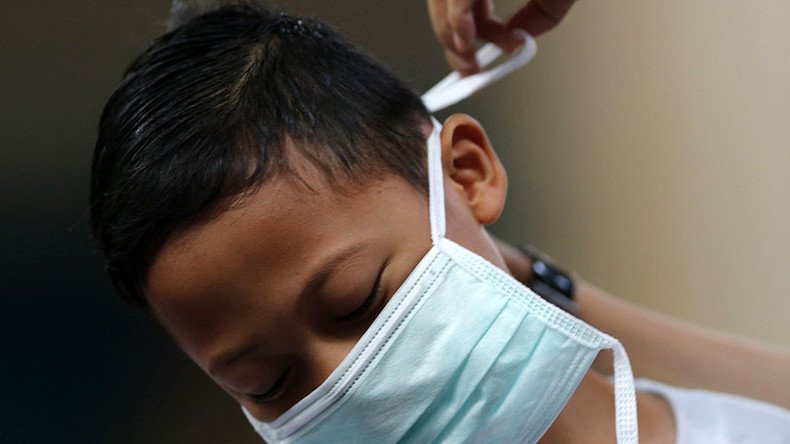 One in seven of the world's children breathe extremely polluted air, which is six and more times above the levels allowed by international guidelines, according to a new UN Children's Fund report.
UNICEF has released a new report, indicating that air pollution is one of the major factors in infant deaths worldwide. According to the fund, of every seven children on the planet inhales daily six times more toxins, than is allowed by international regulations and standards.
"Air pollution is a major contributing factor in the deaths of around 600,000 children under five every year – and it threatens the lives and futures of millions more every day," said UNICEF Executive Director Anthony Lake.
Air pollution not only contributes for "almost one in 10 of all deaths of children under the age of five," but harms lungs and brains development of the children, depriving them of the future. According to the report, since children do breathe twice as quickly as adults, and take more air relative to their weight, they are way more permeable and vulnerable to inhaled toxins, than adults.
"Pollutants don't only harm children's developing lungs – they can actually cross the blood-brain barrier and permanently damage their developing brains – and, thus, their futures. No society can afford to ignore air pollution," Lake stressed.
The report uses satellite imagery to expose areas affected by an outdoor pollution. According to the document, some 2 billion children live in areas where outdoor air pollution exceeds minimum guidelines set by the World Health Organization (WHO), while some 300 million children inhale outright-toxic air. The factors, contributing to air pollution are heavy use of fossil fuels, vehicle emissions, dust and waste burning.
The study also provides data on indoor pollution, mainly caused by irresponsible smokers and usage of coal and wood for cooking and heating. According to the report, poor rural regions are the most affected by indoor air pollution.
"We protect our children when we protect the quality of our air. Both are central to our future," Lake said.
READ MORE: Air pollution costs global economy over $5tn annually – World Bank

UNICEF proposes to the world leaders to take "urgent steps" to secure the future of the children. According to the report, four key ways for that are the following: reduction of pollution, increase in children's access to healthcare, minimization of children's exposure and air pollution monitoring.
The report was released prior to the 22nd Conference of Parties (COP22), the UN climate change conference, which is scheduled to take place in Marrakesh, Morocco, November 7-18, 2016.
You can share this story on social media: