Air pollution costs global economy over $5tn annually – World Bank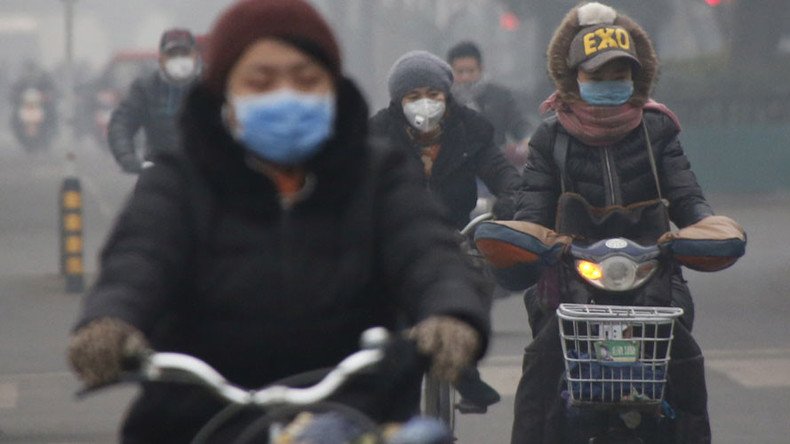 Premature deaths due to air pollution cost the global economy $5.1 trillion annually which is roughly twice the economic output of the UK, according to a World Bank report released on Thursday.
In a major study of the economic costs of indoor and outdoor pollution, the bank said air pollution prematurely kills 5.5 million people a year, or one in ten deaths worldwide.
According to the survey, air pollution significantly hampers the economic development of China and other growing economies in Asia. The bank found that in 2013 (the latest year for which global data is available) China lost nearly ten percent of its GDP, India over seven percent, Sri Lanka and Cambodia roughly eight percent.
"The health risk posed by air pollution is the greatest in developing countries," said the report. "In 2013 about 93 percent of deaths and non-fatal illnesses attributed to air pollution worldwide occurred in these countries, where 90 percent of the population was exposed to dangerous levels of air pollution."
Rich countries are also losing tens of billions of dollars a year through lost work days and welfare costs from premature deaths, the study showed. Dirty air was found to cost the UK $7.6 billion (£5.6 billion) a year, the US $45 billion and Germany $18 billion.
The World Bank also calculated that in 2013, premature deaths alone cost the global economy about $225 billion in lost work days. The estimates do not include the costs of treating illnesses linked to pollution.
Even with welfare costs, which are based on what people, were prepared to pay in order to avoid dying from air pollution, the calculated $5 trillion may not reflect the full cost, economists said.
READ MORE: Canadian canned fresh air 'instantly sells out' in China amid pollution horror
"The figure could be very much more if it included health costs. We did not include the costs of [morbidity] illnesses caused by pollution," said lead author and senior environmental economist for the World Bank, Urvashi Narain. "The scale of the problem is truly daunting. The poor are more likely to live in polluted areas and are less able to access healthcare," she added.
The study also drew a link between economic development and air pollution. From 1990 to 2013, welfare losses nearly doubled and labor income losses increased by 40 percent. That happened even despite the fact that countries had made great gains in economic development and health outcomes.
You can share this story on social media: