India air pollution kills half a million per year, costs hundreds of billions – study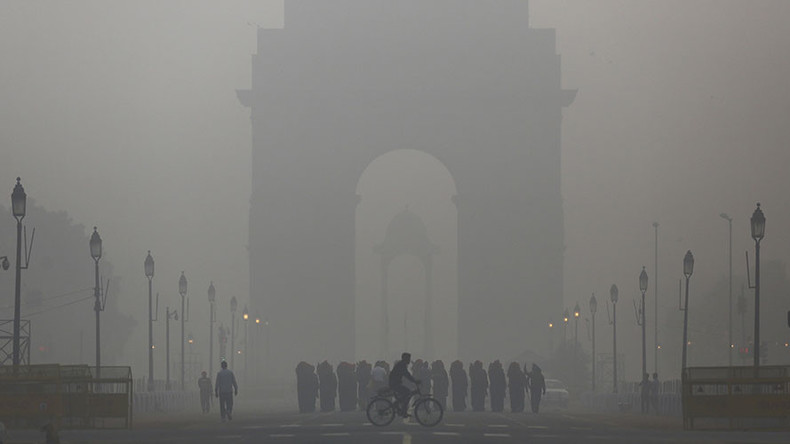 Air pollution in India is leading to half a million premature deaths a year and is costing the country hundreds of billions of dollars, according to a new study.
The research, published in the journal Geophysical Research Letters, suggests that around 570,000 premature deaths in India were caused by exposure to fine particulate matter in 2011, and 12,000 were caused by exposure to ozone.
Fine particulate matter, found in smoke and haze, consists of tiny particles or droplets in the air that are 2.5 micrometers or less in width. Ozone, meanwhile, is known to cause respiratory problems.
The most affected part of the nation was the Indo-Gangetic region, which includes the northern strip of the country.
The research relied on computer simulations of outdoor pollution levels throughout India, using national inventories on pollutant emissions.
From there, researchers used a model based on previous research on human health response to pollution to estimate the number of premature deaths. All of the simulations were based on 2011 data.
The new study follows separate research published by Greenpeace in February, which found that India had surpassed China in the amount of fine particulate matter pollution.
Comparing the two countries' capitals, that study found that New Delhi came to about 128 micrograms per cubic meter, compared to Beijing's 81. The World Health Organization (WHO) recommends that countries aim for an annual average of 10 micrograms per cubic meter.
It is important to note, however, that there is no concrete way to determine who has actually been killed by air pollution. Instead, studies rely on statistical algorithms to develop estimates about a population's response to pollution exposure, using previous observations on pollution and public health.
The results of the research come less than two months after a study found that air pollution was linked to 16,000 premature births in the US, costing the country over $4.3 billion.
You can share this story on social media: