ISIS carries out massacres around Mosul, Hollande urges vigilance after jihadists return from Iraq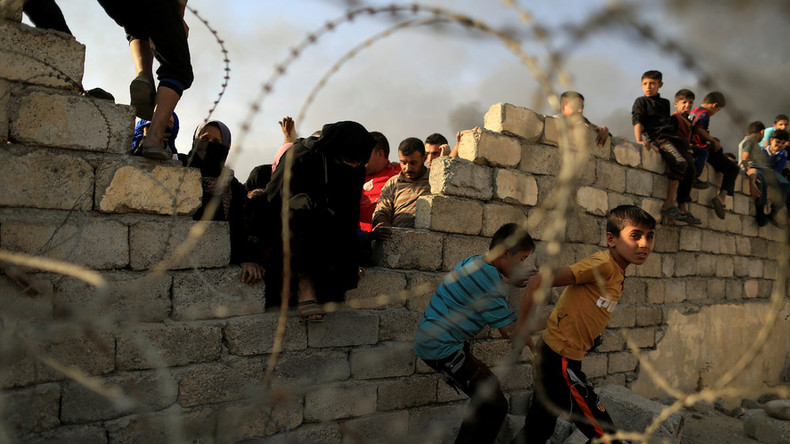 Islamic State has reportedly massacred scores of people as the coalition's operation to retake the Mosul continues, the UN said. French President Francois Hollande urged the anti-IS forces to prepare for the aftermath of the jihadists' defeat in Iraq.
According to preliminary information from sources in Iraq, 50 ex-police officers were executed in a building outside Mosul on Sunday, Rupert Colville, UN human rights spokesman, said.
On Thursday, Iraqi security forces found the bodies of 70 civilians in the village of Tuloul Naser south of Mosul, he added.
Read more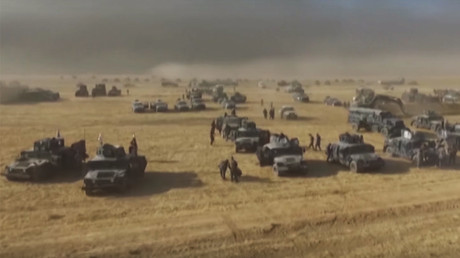 "The bodies had bullet wounds, but it isn't known for sure at this point who was responsible for the killings," Colville as cited by Reuters.
In the village of Safina, about 45km south of Mosul, 15 civilians were murdered, with their bodies thrown into the river to intimidate the population, he said.
Also in Safina, six men were tied to a vehicle and dragged around, the UN spokesman said, adding that the victims were apparently relatives of a tribal leader who fought against Islamic State (IS, formerly ISIS/ISIL).
IS terrorists reportedly killed three women and three girls, also wounding four other children, outside of the village of Rufeila.
During the forced relocation from the village, "the victims were lagging behind because one of the children had a disability. She was apparently amongst those shot and killed," Colville said.
According to the spokesman, the information came from a "mix of sources" – both civilian and government – in northern Iraq, which the UN had used in the past.
"Some of them we can't even come close to identifying, or even the locations, for protection reasons, particularly for those in areas that are still held by ISIS, and in other cases there's a major battle (going on)," he said.
READ MORE: Turkey takes part in advance on Mosul despite Iraq opposition
Colville expressed concern that "these will not be the last such reports we receive of such barbaric acts by ISIS."
He urged the forces involved to do everything to avoid civilian casualties and to treat IS militants in accordance with international law.
Iraqi forces, backed by the US-led coalition, are in the second week of operation to liberate Mosul, the de facto IS capital in Iraq, from jihadists.
"Our coalition is now at the gates of Mosul," French President Francois Hollande said during a meeting of anti-IS coalition defense chiefs in Paris, AFP reported.
"The recapture is not an end in itself. We must already anticipate the consequences of the fall of Mosul," he warned, calling the return of jihadists from Iraq to their home countries in the EU one of the main challenges.
According to French sources, there at least 300 citizens of France among the 5,000 jihadists currently fighting in Mosul.
READ MORE: Nearly 1,000 reportedly treated for breathing problems after ISIS torches sulphur plant near Mosul
Hollande again said that after Mosul, the coalition must retake Raqqa, which remains Islamic State's largest stronghold in Syria.
"We must ensure that IS be destroyed and eradicated everywhere," the French leader said.